A cool little box! So primitive and cute! The 606 was the percussion side-kick to the TB-303. It even looks like the 303. It stores up to 32 patterns and 8 songs. The 606 allows switching between Pattern Play and Write mode while running - making the 606 the only drumcomputer in the X0X series that can be edited while performing and switching patterns. It is also possible to link up to 4 consecutive patterns in Pattern Play mode. There is only a mono audio output, however there are mods from Kenton Electronics and Analog Solutions that will add individual outputs for each drum tone.
The 606 has seven analog drum sounds which are simple, yet great! Kick, Snare, 2 toms, open hat, closed hat, cymbal, accent. The hi-hats are a very tinny electronic sound and its toms are great for soft tribal patterns. These seven sounds alone are still quite popular today, and the 606 has been used by Überzone, Cirrus, Sneaker Pimps, Download, Aphex Twin, Astral Projection, Nine Inch Nails, Mr. Oizo, Jimi Tenor, Kid 606, OMD, Moby, Freddy Fresh, Autechre, Luke Vibert, Orbital, and Union Jack.
For control, the 606 can receive or transmit DINSync for synchronization with other TR and TB family instruments. There are also two trig-outs on the unit, which make it very valuable as a pattern-programmable dual-channel trigger sequencer. It's often used for this by various people (Jimi Tenor) to 'drive' other sequencers and the like.
Modifications:
Editable Drum Tones! - Analog Solutions external modification adds tuning for all drum tones, snap and decay for the snare drum, decay for the cymbals and a sweep effect for the toms.
Individual Outs! - Analog Solutions adds 5 individual outputs for cymbals, kick, snare, toms and hi-hats.
Synhouse MIDIJACK DINSYNC - Adds a MIDI jack so the 606 can be sync'd to external MIDI triggers and tempo sources.
Demos & Media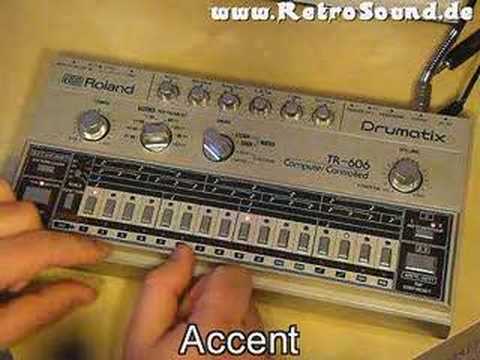 Roland TR-606 "Drumatix" Analogue Drum Machine
Audio Clip 1
This is a short demo of the 606 with a 303 called Icecream, by Niklas Winde.
Manual
Roland has made manuals for most of their products available as free PDF downloads.
TR-606 Basics
Get the most out of your 606. Learn how to use it from these manuals & guides.
Specifications
Tones -
snare, kick, closed hat, open hat, tom 1, tom 2, and cymbal
Controls -
Drum Tone Level, Accent; Tempo
Control -
DIN Sync in/out