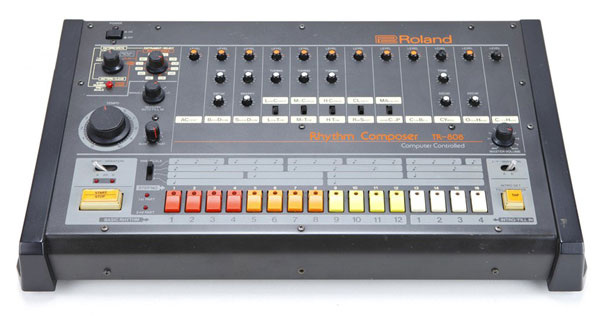 The TR-808 is a classic drum machine that uses analog synthesis to create its sounds. The sounds have a very pure quality and are closer to the sound of the CR-series of Roland drum machines, as opposed to its popular successor, the TR-909. The TR-808 has become the signature beatbox used in most R&B and hip-hop as well as a lot of dance and techno music. Booming bass kicks, crispy snares and a distinctive cowbell sound made famous in the 1980's are all part of the 808 and its famous sound.
Its 16 drum sounds include the famous boomy 808 kick, snare, low/mid/high toms, low/mid/high congas, rimshot, claves, hand clap, maracas, cowbell, cymbal, open hi-hat, closed hi-hat and accent. Most of the sounds can be edited. Bass Drum and Cymbal (tone, decay), Snare (tone, snappy), Toms and Congas (tuning), Open Hat (decay). All sounds have individual volume controls and individual outputs. Unfortunately it was not MIDI equipped but it did use Roland's DIN Sync.
The TR-808 was OK in its time—it just didn't sound like real drums. When the Linn Drum machines appeared, the 808 seemed doomed. But its unique sound and analog allure have allowed it to find a long-lasting home in many forms of music. Ultimately, the 808 has become one of the more important and famous drum machines in the history of music, spawning imitators (ReBirth, DrumStation) as well as band names (808 State).

Famous users include Orbital, Überzone, Download, Aphex Twin, 808 State, BT, Bomb The Bass, Sense Datum, The Prodigy, Josh Wink, Faithless, Skinny Puppy, Bushflange, Jimi Tenor, A Guy Called Gerald, Eat Static, Dr. Dre, Jimmy Edgar, Jimmy Jam & Terry Lewis, Freddy Fresh, Richie Hawtin, Kraftwerk, Jean Michel Jarre, Cocteau Twins, Marvin Gaye, Luke Vibert, LL Cool J, Ice Cube, the Beastie Boys, Nick Rhodes (Duran Duran), and Puff Daddy.
Demos & Media
Roland TR-808 Drum Machine Demo Video "Old School Beats"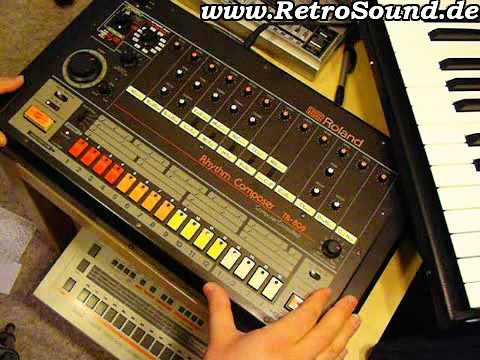 Roland TR-808 Rhythm Composer
Specifications
Sounds -
Kick, Snare, Low/Mid/Hi Toms, Low/Mid/Hi Congas, Rimshot, Claves, Hand clap, Maracas, Cow bell, Cymbal, Open hihat, Closed hihat, Accent
Control -
DIN SYNC IN/OUT