The CMU-800 is a little four-channel mixer with internal preset voices and sequencer software for an Apple II or PC. There is a ribbon cable out the back with a card attached. It features analog synthesis with fixed sounds. Four note polyphony in the chord section, monophonic bass and melody synth sections, and an analog drum section.
The Chord/Melody section has only 1 sound. The drum section is similar to the TR-606 Drumatix, and the bass section is similar to the TB-303 Bassline (some limited adjustments in sound were possible via software). It has separate melody, bass, chord, rhythm, mix outputs. There's also 8 cv/gate outs to run external analog equipment by control voltages, and there's a click in/out. On the face it has knobs for portamento, Melody sustain & decay, Bass decay, and Chord decay. It also has volume level sliders for each of the instruments and a master volume slider. The software uses a similar music programming method as the MC-8 or MC-4.
It's definitely a limited instrument today, but it's unique, quirky and capable of some nice analog Roland sounds for cheap. If you have an old Apple or PC lying around, and access to the correct software you're in luck! Otherwise the CMU-800 is just a fancy paper-weight. It has been used by Astral Projection.
Demos & Media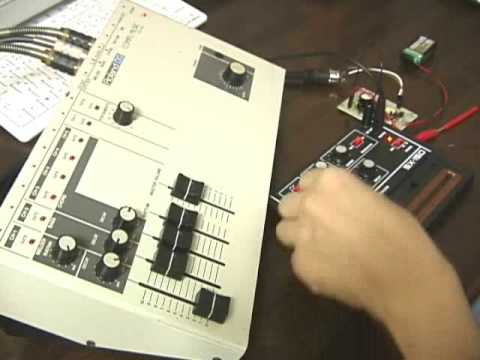 CMU-800 & SX-150 MIDI Demo
Specifications
Polyphony -
Monophonic to 4 voice polyphonic
Sounds -
Poly-Chord, Mono Bass, Mono Melody, Analog Drum
Keyboard -
None (uses sequencer software)
Control -
Apple II and CV/Gate