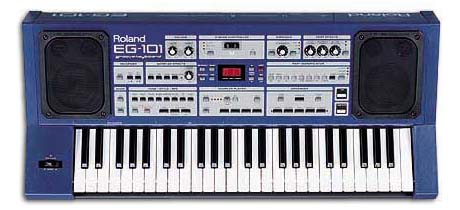 Even with those built in speakers, this latest addition to the Roland Groove line is anything but low end. In fact the EG-101 is a hands-on sampling, synthesizing, groove making real-time workstation for singlehandedly generating entire dance tracks! Take some of the features of the MC-505 groovebox and the SP-202 sampler and you get the basis for the EG-101. It has a wealth of Roland-like sounds including everything from sub-basses to trance pads to 808 and 909 drum kits. Like other Groove products the EG-101 has a DJ/Remix or RPS (real-time Phrase Sequencer) for quickly generating ready-made grooves and beats - good for live DJ use or as a starting point for writing your own tracks! Unfortunately you can't program your own phrases. But you can alter the sounds, tempo and so on to give them your own unique twists.
Only the most important functions are immediately accessible and real-time controllable. These include the filter cutoff, resonance, ring modulator and reverb. A great new feature is an external sound input that can be routed through the filter and/or ring modulator. Borrowed from the MC-505 is the D-Beam for more control (or lack thereof)! As with other Groove products the EG-101 has a good sequencer / recorder implemented for creating your own arrangements. Only one song can be recorded at a time but it can be created in real-time by switching patterns and muting any of the eight tracks allowing you to build and decompose your grooves on the fly! And the built in speakers are actually quite nice allowing this synth a bit of portability and they make the EG-101 ideal for the home user or budding new techno producer!
The sampling section of this Groove machine is limited by most professional standards but still offers a useful stepping stone for most as well as a great tool for new users. A total memory of 16 samples can be created from any external sound source. There's a 7.81KHz sample rate (128 seconds at Lo-Fi quality) and 31.25KHz (32 seconds at Non Lo-Fi). Basic sample edit functions are also available such as pitch, time stretch, filters, effects, auto-looping and truncating. Although these specs may not be great, having any on-board sampler is a definite bonus for any synthesizer workstation. For you budding new Dance artists or those of you who just want a groove machine to play with on the road or in your kitchen - the EG-101 is definitely the biggest and best beginner to intermediate level synth currently around! And it's Groove Approved!!!
Demos & Media
Audio Clip 1
Hear two samples from the EG-101 demo sequences. The first is a snazzy House demo while the second example shows off some Big Beat prowess.
Specifications
Real-Time Effects -
Reverb, Ring Mod, Filter, Resonance, Cutoff
Keyboard -
49 keys (velocity sensitive)
Resources
Images from Synthesizer Picture Gallery (site gone).