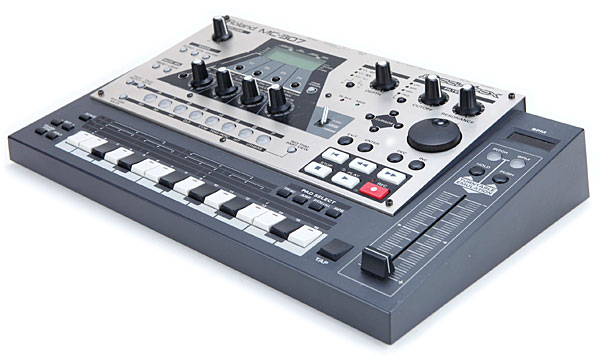 The new MC-307 is the Groovebox aimed at DJs. Like the other MC's, it is a robust pattern-based sequencer/sound module with 800 patches, 40 rhythm sets and 33 effects. However there's a new "Turntable Emulation" mode which affects the pattern tempo and pitch in much the same way as a turntable's speed fader. There are even Hold and Push buttons which let you emulate the slowing, speeding, stopping or flicking of a record by hand. This lets you control and 'beat-mix' your Groovebox just as if it were a vinyl record!
The MC-307 has all the familiar sounds of a Roland Groove product, plus many new sounds, patterns and effects. There is also a new Grab switch with multi-effects (including Isolator) for creating interesting rhythmic effects. It does not, however, have the D-beam controller as the MC-505. But it does have a nice big backlit LCD display unlike any previous Groovebox.
The sequencer comprises of 7 instrument parts plus one rhythm track. Each is mute-able for dropping sounds in and out of loops on the fly! Perfect for DJs working the energy on the dance floor! The Real-time Phrase Sequencer (RPS) offers 470 instant patterns in all sorts of dance music styles!
For DJs, the MC-307 gets 5-stars. It's the ultimate performance tool for any dance music DJ! However, as a for the rest of the synth-community the MC-307 is nothing we haven't already heard before and will be of little use, especially when compared to the MC-505. The MC-307 has already been used by BT.
Demos & Media
Audio Clip 1
Here are some cool techno and trance song and pattern demos.
Specifications
Oscillators -
16MB sounds comprising 800 dance-oriented synth and drum instruments
Sequencer -
Sequencer:
8-parts; 240 preset patterns, 470 RPS, 200 user; 50 songs; 40,000 notes memory

Arpeggiator:
43 preset, 10 user patterns
Drums -
40 Rhythm sets plus 20 user
Effects -
33 types; 3 independent, synchronizable effects processors
Memory -
800 presets plus 256 user