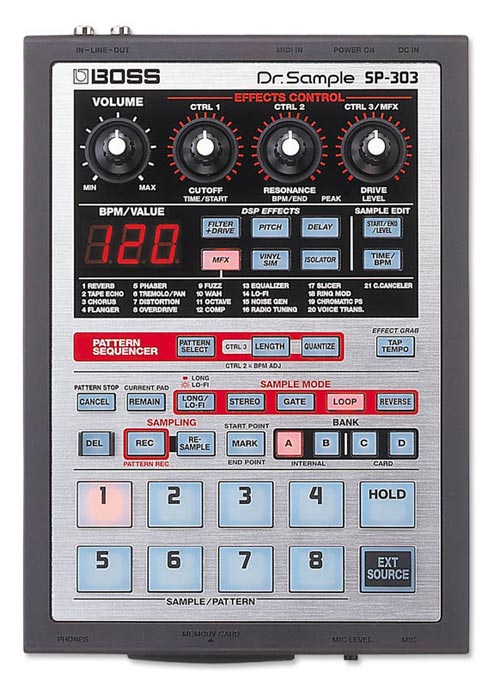 The BOSS SP-303 Dr. Sample offers DJs and musicians a compact, portable phrase sampler with CD-quality sound, 8-note polyphony, 26 onboard effects and a realtime pattern sequencer. Definitely a step up from the SP-202, with full 44.1 kHz sampling, double the polyphony and much greater sampling memory and effects processing, but still just as compact and easy to use.
Use the SP-303 to sample sounds and loops or grooves (the highest sample time is about 200 min. with a 64MB SmartMedia Card and a sample rate of 11 khz). Then trigger up to 8 mono samples at once. Create songs from your loops and phrases (up to 99 measures). There are 26 effects like reverb, flanger, delay Voice Transformer, distortion, Slicer, Isolator, Lo-Fi, and Vinyl Simulator plus filter Cutoff and Resonance. The Resample feature allows you to make new samples of your sounds with the effects you've applied.
The SP-303 is an inexpensive alternative to more expensive samplers in a compact package perfectly suited for DJs and live on-stage performers. Plenty of quality specs without too many bells & whistles to get you bogged down.
Demos & Media
Audio Clip 1
Demo of the SP-303 in action. From Future Music CD issue 110.
Specifications
Sampler -
44.1 kHz (standard), 22.05 kHz (long), 11.025 kHz (lo-fi); 31 seconds to 202 min
Effects -
26 effects including Filter + Drive, Pitch, Delay, Vinyl Sim, Isolator, Reverb, Tape Echo (+19 more!)
Memory -
32 samples (16 intern, 16 SmartMedia 3.3V Card); up to 112 samples backup