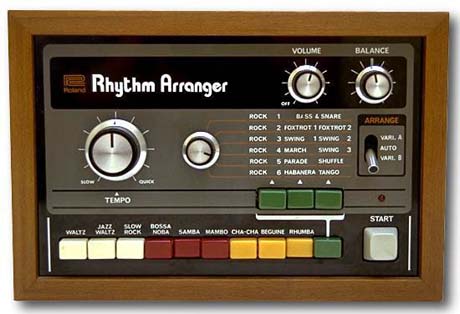 The TR-66, released in 1973, is one of the earliest models of drum machine to come from Roland, and it was also the precursor to the more famous CR-line of CompuRhythm drum machines that would come out of Roland five years later. The TR-66, however, is not truly a drum machine—it is a rhythm arranger, just like it says on the front! There are 18 initial drum patterns using kick, snare and hihat sounds arranged into several rock, swing, march and dance patterns. These patterns could then be combined with one (or more) of the 9 stylized rhythm patterns selected by the buttons along the bottom row of the TR-66. These included Waltz, Cha-Cha, Bossa Nova, Rhumba, etc. Two or more rhythm pattern buttons can be pressed simultaneously for more unique combinations. All 27 patterns also have an A/B/Auto variation mode. There are literally hundreds of possible rhythm arrangements!
Sonically, the TR-66 is a classic. All of its 11 sounds are pure analog. They're nothing too fancy, but they have a soft and warm sound quality reminiscent of what was later found in the CR-series. The sounds include kick, snare, hihat, conga, bongos, claves, maracas, cowbell, rim shot, and cymbal. There's no sound edit ability, however, other than the "Balance" knob which acts like an overall tone control. Tempo can be roughly adjusted—there is a giant knob with "Slow" to "Fast" indicators on it—the tempo range covers 50 to 200 bpm. With only a Start Switch input in the rear, there is no hope of actually synchronizing the TR-66 to any other equipment in your studio (without modifying it).
The TR-66 probably offers little use to modern day music production, practically speaking. The inability to synchronize it means that if anybody wants to use its Rhythm Arrangements, and many still do, the strategy is often to sample it, and work with the sampled loops inside your DAW. Of course, that also means there are plenty of pre-sampled TR-66 loops out there so musicians can easily get TR-66 sounds without ever owning one. Actual units are more often collected, sampled by their owners, and otherwise shown off as a display piece of a classic Roland instrument that came before its more famous CR-series and TR-series descendants.
The TR-66 has been used by Depeche Mode and Roxy Music.
Demos & Media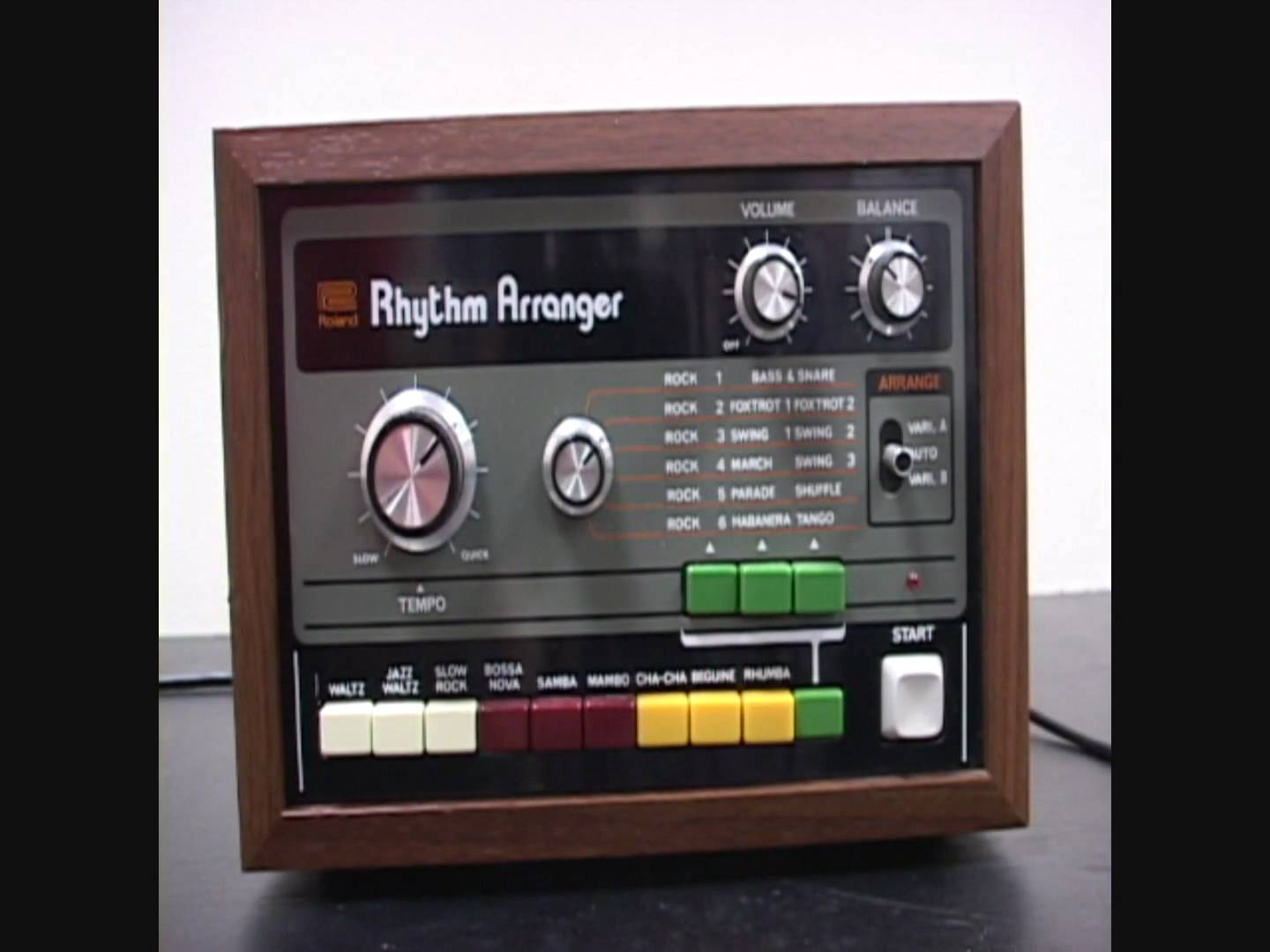 Roland TR-66 Rhythm Arranger
Audio Clip 1
The TR-66 used in concert with a Big-Beat loop.
Audio Clip 2
This demo has some individual samples of the drum/perc sounds from the TR-66.
Specifications
Sounds -
Kick, Snare, Rim shot, Claves, HiHat, Cymbal, Conga, Low Bongo, High Bongo, Cowbell, Maracas
Controls -
Tempo and balance
Patterns -
27 Patterns: 18 Drum patterns and 9 Rhythm patterns
Control -
Start Switch Trigger Input
Weight -
8.8 pounds (4 Kg)