The U-110 is a basic rack-mount sound module consisting of acoustic-oriented PCM samples with preset settings, limited flexibility, and boring late eighties sounds. It's nothing to get excited about. It has 2MB of ROM-based sampled sounds, none of which sound great. The U-110 is fairly noisy as well. Its palette of sounds could be grossly expanded with up to four expansion cards, but good luck finding those today!
The U-110's biggest distinction, really, is that it was Roland's first totally digital sample-based synth. At the time, that was a break-through - look at all the realistic sounds you get in a single rack space MIDI module! Nowadays, it's hard to wonder why anybody would want one of these. The U-110 was available in a prototype form as the T-110. But the U-110 was soon replaced by the U-20 keyboard and U-220 module. Astral Projection used a U-110 before they switched to the U-220.
Demos & Media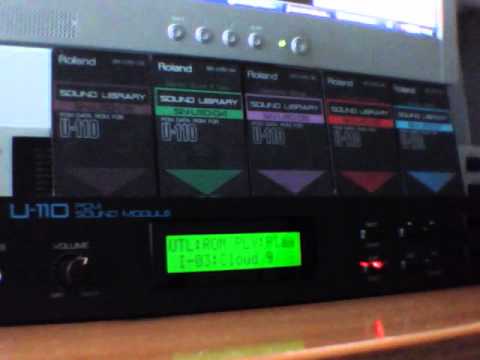 Roland u-110 rom play demo
Specifications
Polyphony -
31 voices (6-part multi-timbral)
Oscillators -
2MB ROM samples, expandable to 4MB
Envelopes -
Amp envelope attack/release can be edited, among the limited parameters.
Effects -
2 FX - chorus and auto-pan.
Memory -
Expandable with PCM cards: Up to 4 cards can be used simultaneously.