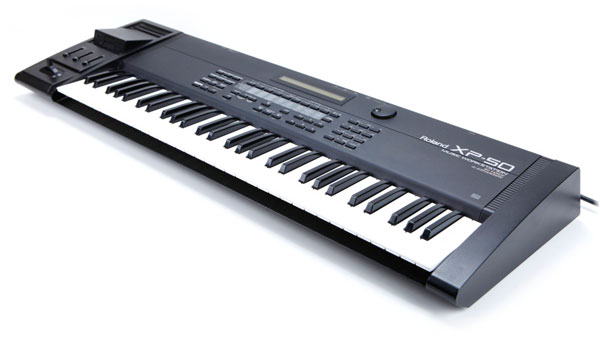 The XP-50 is not just another synthesizer workstation, it's basically a JV-1080 with a built-in keyboard and a 16-track sequencer! It is a digital synthesizer using sampled ROM waveforms. Superb sound quality capable of emulating most any instrument imaginable plus totally fat analog synth type sounds and loads of percussion! It has 64 voices of polyphony and is 16-part multitimbral. The XP-50 makes a great beginner's pro-quality workstation.
It has 8MB of sounds and it also offers a lot of expandability with 4 expansion slots and 2 data card memory slots. You can get up to 42MB of sounds by adding any of the popular SR-JV80 expansion cards suited for Techno, World Instruments, Orchestral or Synthesizers. There's also plenty of multi-effects, reverbs, choruses and filters for creative flexibility, motion control and extensive MIDI implementation.
Some of the features the XP-50 brings (to the JV-1080) are a standard 61-note keyboard with velocity and aftertouch. The MRC-PRO 16-track sequencer which features 60,000 note capacity and can hold 100 patterns and 1 song. Several recording features (loop, step, realtime), quantization and editing features are available too. A built-in 3.5 inch disk drive facilitates storage of your sequences and MIDI data. With a 'bang for your buck' value the XP-50 still makes a great keyboard alternative to the JV-1080. That means you get some of Roland's best sounds in a performance workstation that is as affordable as 'pro-quality' can get (beyond which come the XP-60 and XP-80 mega-synths). It has been used by The Cure.
Demos & Media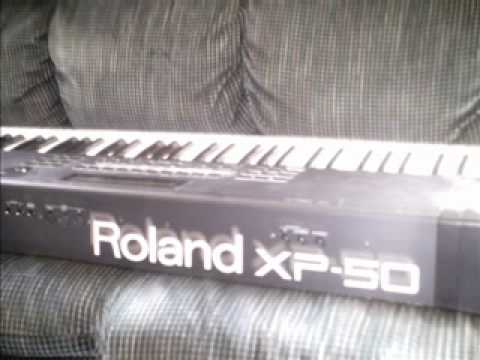 Specifications
Oscillators -
32 bit custom RISC chips for Digital Acoustic simulation; 512 on-board waveforms (plus up to four 8MB SRJV80 series expansion boards)
LFO -
Up to 8 MIDI syncable LFOs
Filter -
TVF (lowpass, bandpass, high pass, peak) with cutoff, resonance, key follow and velocity sensitivity
Effects -
40 multi-effects, reverb, chorus
Memory -
640 Patches, 128 performances
Keyboard -
61 keys (responds to velocity and aftertouch)
Control -
MIDI (16-parts)