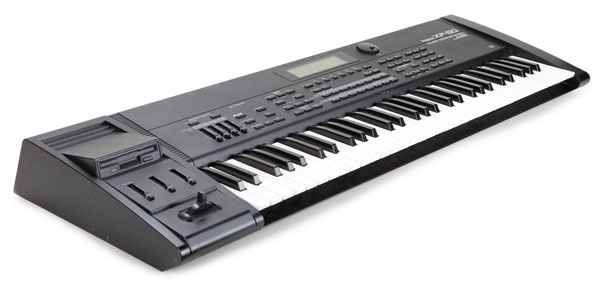 The XP-60 was one of Roland's flagship digital Workstation Synthesizers. With extensive professional features, superb quality PCM sounds, sequencing, effects and more, the XP-60 could be the only synth you may ever need! Compared with other XP- synths, the XP-60 is almost the same as the XP-80 except that XP-80 has a great 76-note semi-weighted keyboard whereas the XP-60 has a standard 61 note keyboard.
Like the XP-80, the XP-60 offers up 64 voices of polyphony and can send on up to 16 MIDI channels simultaneously. The sounds are all digital in nature and sound pretty good too! Though its strengths are the emulation of acoustic instruments, it can create convincing synth-type sounds too. It comes with 16MB of ROM sounds, but there's room for up to four 8MB expansion boards that add Orchestral, Techno, Vintage Synths, World, Bass & Drums and other instrument sets (from the SR-JV80 expansion series).

Bringing up the 'Workstation' end of the XP-60 is a full-fledged on-board MRC Pro sequencer. With a 60,000 note capacity, 100 patterns, and 1 song position - you can create songs, patterns, loops or phrases with relative ease. Other features of the sequencer include Grid, Groove or Shuffle quantization and a built-in disk-drive. A great Arpeggiator is also available. High quality internal effects are provided such as Reverbs, Chorus, Delays and many great multi-effects. There are also digital filters (4-pole, 12dB/oct, HP, LP, BP, Peak) and a ring-modulator for analog-synth type effects, perfect for dance and techno music! A Modulation-Matrix provides up to two LFO-effects for adding motion and life to the sounds. In addition, there are 6 sliders for real-time control.

In a nutshell, the XP-60 is a pure digital synth. Its sounds are virtually the same as the JV-1080, JV-2080, XP-80 and XP-50 synthesizers. And the XP-60 makes a great all-in-one Workstation for any musical application. For a digital instrument, the sounds can be surprisingly expressive and the XP-60 is not reserved for any particular musical genre, other than top-quality music!
Demos & Media
Audio Clip 1
Demos of four arpeggios. From Future Music CD issue 73.
Specifications
Oscillators -
4 osc. per voice; Digital PCM subtractive with 16MB of ROM (expandable to 80MB)
Sequencer -
60,000 notes, 100 patterns, 1 song
Filter -
Resonant 4-pole, 12dB/oct, High pass, LowPass, BandPass, Peak filtering
Effects -
3 processors: EFX (w/ 40 effects), 8 reverbs, chorus
Memory -
512 Preset, 128 User patches; 64 Preset, 32 User performances; 8 Preset, 2 User Drumkits
Keyboard -
61 keys (responds to velocity and aftertouch)
Control -
MIDI (16-parts)