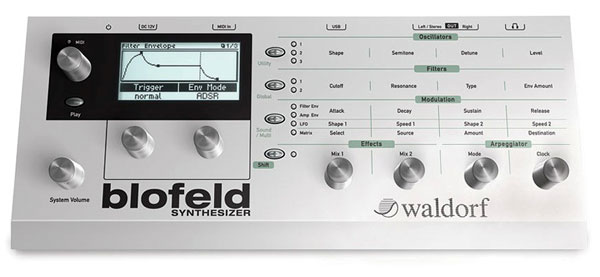 The release of the Blofeld synthesizer in 2007 helped resurrect Waldorf Music GmbH from near extinction. This compact and affordable wavetable synthesizer boasts one of the most complex digital engines on the market and is well equipped to compete with other powerful digital synthesizers such as the Alesis Ion and Access Virus TI Snow. The Blofeld was first released in a stylish white desktop module and was followed up a year later with a four-octave keyboard version plus the addition of onboard sample RAM. Black versions of both models were also released.
The Blofeld is descended from the Waldorf Q, Micro Q and Microwave II wavetable synthesizers (all of which were themselves descendants of the classic PPG Wave). It sports three oscillators per voice and two multi mode filters. All three oscillators have classic analog modeled waveforms, while Osc1 and Osc2 can also act as wavetable generators. The Blofeld features 68 wavetables, including tables from the Microwave II, Microwave XT, Q, Micro Q and PPG Wave. However, unlike its predecessors, the Blofeld can load two different wavetables into oscillators one and two, creating more complex and evolving sounds. Throw in the fact that user created wavetables can be loaded (via third party software) and the Blofeld clearly stands out as one of the most advanced wavetable synths of them all.
In addition to the analog modeling and wavetable synthesis, there is oscillator syncing, ring modulation and a noise source with controllable color. All three oscillators can frequency modulate (FM) each other as well as both of the filters. When the sample RAM option is used (available standard on the keyboard model or as an expansion option for the desktop module), Osc1 and Osc2 can load user samples that act as regular sound sources (instead of the analog modeled waveforms or wavetables) for even more unique sound possibilities. Samples are loaded through the Spectre app where they can be freely assigned to the desired keys, even multisamples are supported. On the negative side, there is no velocity switching and it takes several minutes to load a sample set over USB, nor is it possible to change or load just a single sample in a set.
There are two filters (configurable in series or parallel) with (2-pole or 4-pole) Low pass, Band pass, and High pass, as well as Notch, two screaming Comb filters and an emulation of the analog PPG Wave filter. Each filter has a Drive parameter with various different flavors. Filters are fully resonant and will go willingly into ear-piercing self oscillation. Overall, the filters sound great, from smooth to aggressive, even if they are merely digitally modeled affairs.
Diving into the powerful 16-slot modulation matrix, the Blofeld turns into a digital modular monster where almost everything can control everything. And with three LFOs and four Envelopes (A-D1-S1-D2-S2-R type with loop-able segments) things can become pretty complex. You can even create your own modifiers by combining two mod sources and applying different operations to them (e.g. we can divide velocity by a note number and use the new value as a control parameter in the matrix).
At the end of the synthesis chain are two effect slots. The effects are adequate (with a very nice Decimator and a second Drive stage) however the dreadful metallic Reverb should be avoided unless you are scoring some alien invasion sci-fi blockbuster and need the sound of a monster trapped in an air-conditioning duct...yikes!

The Blofeld is fully multitimbral with up to 16 parts playing at once. Every part has its own MIDI channel, key and velocity range, so complex multitimbral setups are possible. Polyphony depends on the patch complexity and can reach up to 25 voices. The use of samples, wavetables and comb filters can potentially limit the polyphony to single digits. The Blofeld does not have an internal sequencer but it makes up for that with an extensive arpeggiator. Arpeggios of up to 16 steps can be programmed with individual settings of swing, glide, accent and note length for each step. Programmed arpeggios can be saved with each patch as well.
Upon initial examination, the user interface seems limited with only seven control knobs and five buttons. But the programming interface is in fact intuitively designed and works well. Instead of dedicated knobs, it uses a matrix approach to parameter access, similar to that of the Micro Q or even the DSI Evolver, placing its most used parameters at hand with an easily navigated screen-based menu system to get to the deeper levels. For the traditional tweaks (labeled on the front panel), press the corresponding button and turn one of the four control knobs. For deeper editing, flip through the menu pages using the main encoder and then adjust the active parameters using the two knobs under the screen. In effect it is possible and practical to program new patches from scratch via the UI, which, given the complexity of the engine, is remarkable.
While the sound engine is definitely first-class, the build quality is a mixed bag. Though its outer metal shell remains ridiculously tough (and heavy), connectors and knobs seem to be flimsy and prone to damage. The rotary encoders can skip values, USB can drop data and the overall feel seems to have been dictated by cost-saving decisions. On the other hand, the LED screen is excellent, clear and bright, and the keyboard version has a very nice key-bed with aftertouch plus pitch and mod wheels. Connections are limited to stereo audio out, headphone out, USB and MIDI in. The Keyboard version adds a sustain pedal input, MIDI out and an internal power supply. When introduced, the Blofeld's OS carried numerous bugs and glitches. However, Waldorf has been updating the OS with reasonable frequency and by v1.15 of the OS, almost every issue had been fixed and the Blofeld is stable and gig worthy.
Sonically the Blofeld tends toward metallic, digital timbres, overdriven electric noises, earth shattering basses and icy pads. However, since the engine is enormously deep, almost any sound can be approximated with careful programming. It is probably not, however, the first choice for faithful analog recreations. On the other hand it can easily go where no analog synth has gone before and brings some wild flavors to the sonic table.
Trivia: The Blofeld is named after the evil genius Bond villain, Ernst Stavro Blofeld. The software used to create and transfer sample content to the Blofeld is named after his criminal organization SPECTRE.
Demos & Media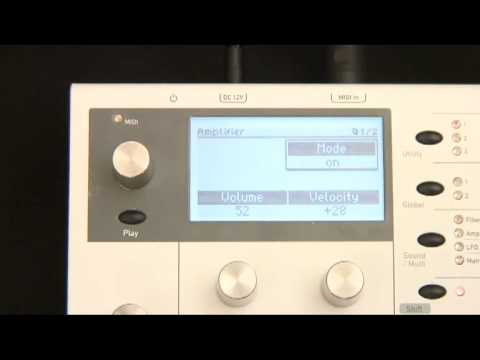 Official Waldorf Blofeld tutorial
Waldorf Blofeld Sound Trip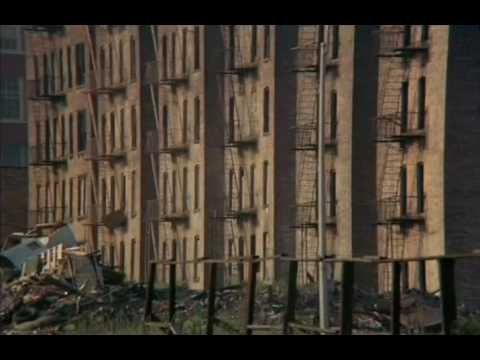 Waldorf Blofeld - this is techno
Specifications
Polyphony -
25 voices maximum (Poly, Mono, Dual or Unison modes)
Sampler -
44.1kHz mono with 60 Mb RAM
Oscillators -
3 oscillators per voice (128' to 1/2') plus noise, frequency modulation, ring modulation
Waveforms -
All Q Oscillator models: sine, saw, triangle, square with PWM; 68 digital 16-bit wavetables from Microwave II/XT/XTK
LFO -
3 LFOs per voice with square, sine, saw, triangle, S&H, random with delay and fade in/out
Modulation -
Modulation Matrix with 16 Slots, freely programmable
Filter -
2 independent Multi Mode Filters per voice: Low pass, High pass, Band pass, Notch, Comb; 12 or 24 dB/oct modes
Envelope -
4 Envelopes per voice, ADSR, AD1S1D2S2R, One Shot, Loopable
Effects -
2 Effect units with Chorus, Flanger, Phaser, Overdrive, Decimator, Delay, Reverb
Arpeggiator -
Programmable, 16 steps, Up, Down, Alt Up, Alt Down, Random
Keyboard -
49 keys, velocity and aftertouch sensitive
Memory -
1,024 sounds, 128 multi sets
Control -
MIDI IN (plus OUT on Keyboard), USB
Date Produced -

Blofeld Desktop: December 2007
Blofeld Keyboard: January 2009