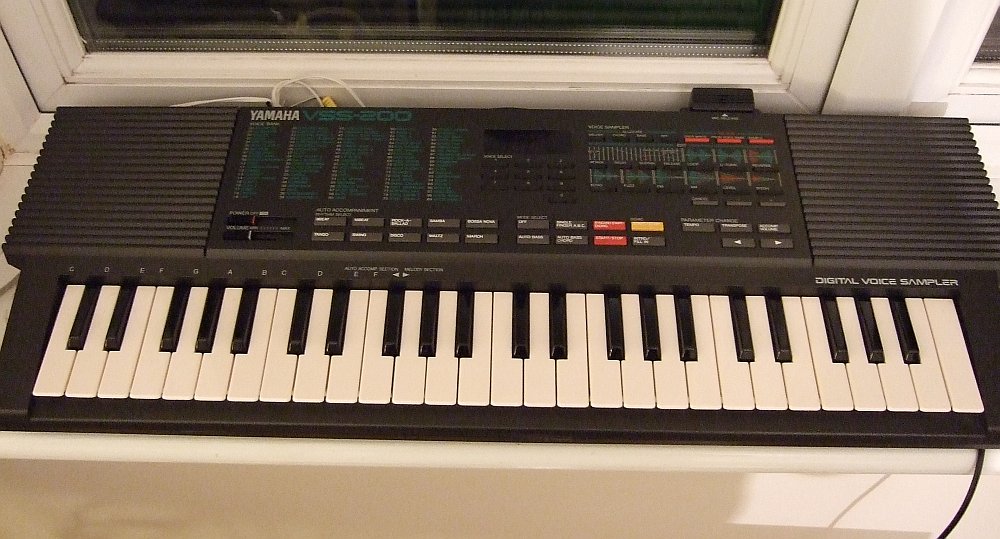 The VSS-200 was first released in 1988 by the Yamaha Corporation as part of their PortaSound series. This series was made up by the VSS-100, VSS-200, and VSS-30, with all of them being sampling keyboards. It makes use of FM Synthesis for sound generation and features one hundred presets. However, the VSS-200 also has a built-in microphone that can be used to record your own samples. Alternatively, the line in on the rear of the unit can also be used for recording. You can even sample the internal sounds of the VSS-200 if you want to process them with the DSP effects.
The VSS-200 was never meant to be a sophisticated or expensive synthesizer, which means that as fun as it is to use, there are some areas where it is lacking. This is especially noticeable with the keyboard, which features 49 mini-keys and lacks any form of aftertouch or velocity. Although the VSS-200 comes with two built-in speakers, playback is only in mono. The VSS-200 is divided into three sections, rhythm, preset and sampler.
In the rhythm section you'll find 10 basic rhythms on offer. You can adjust the tempo of these and also make use of bass and chord accompaniment. The preset section has 6-voice polyphony, but be aware that this number is less if you make use of the bass and chord accompaniment. You are also not able to edit any of the presets either. Finally, there is the sampler section, which offers 4 voice polyphony. If you do plan on using the microphone for sampling, it has to be said that it requires very loud sounds to actually trigger the gate, so for the best results stick to the sample in. The front panel shows a list of everything in the voice bank, along with their numbers. The buttons are split into sections for auto accompaniment, mode select, parameter change and the voice sampler section as well as the voice select buttons with an LCD above them. The rear panel has the sample in jack and headphones/aux out jack, but no MIDI.
Overall, the Yamaha VSS-200 is hardly groundbreaking, but it is good for what it is and fun to mess around with. While its on-board sounds are extremely tacky, the sampler ability still has a lot of potential. The VSS-200 is also one of the keyboard that has become quite popular in recent years for people who are interested in circuit bending. For fans of lo-fi sounds the Yamaha VSS-200 has a lot to offer.
Demos & Media
Easy Sampling - YAMAHA VSS-200 Toy Sampler (1988)
Specifications
Polyphony -
Up to six voices
LFO -
1 LFO with triangle
VCA -
ADSR Volume Envelope
Arpeggiator -
Single Finger A.B.C., Auto Bass Chord, Auto Bass,
Patterns -
10 rhythm patterns
Songs -
100 voice presets
Effects -
9 DSP effects: Loop, U-Turn, Echo, Fuzz, Reverse, AM, FM, Level Pitch,
Keyboard -
49 plastic, non weighted, mini-keys
Sampler -
8 bit with 1.9 second sample time at 16 kHz sample rate