Comparable to the W7, the QS300 is a slightly 'lighter' synthesizer and workstation. Up to 32 voice polyphony and a large 16-track on-board sequencer based off the QS300 MIDI sequencer. The sounds are quite good, generated from Yamaha's AWM2 analog modeling method, this synth has become a favorite of Ravers, Techno and Trance producers and DJs. The standard GS, GM sounds, and some of the pianos are not special, but they aren't what this synth is about! The technology from this synth was later passed on to the AN1x and the CS1x. The QS300 has a large LCD for viewing and selection of status, effects, preset voices, rhythm patterns, chords, and more. It's full of hundreds of sounds including 22 drum kits. It has a disk drive, Swing effect, Quantize, MIDI controller, Extra DEMO disk, XG compatible...an impressive workstation for the price.
Demos & Media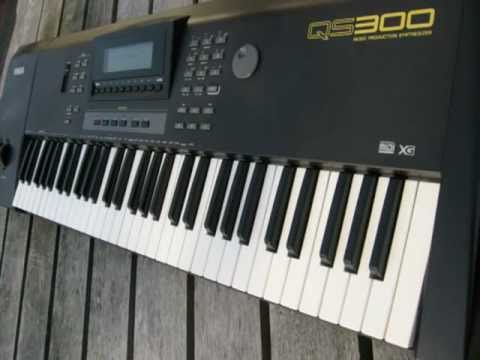 Yamaha QS300 "Anadream" DEMO
Audio Clip 1
A demo song performed on the QS300 by Yarosystems!
Specifications
Oscillators -
Systems AWM2 ROM memory
Sequencer -
Based on QY300: 16 Tracks, 10 Songs, Real and Step time Recording, 96 Clocks per Quarter Note, 88,000 Notes capacity
Effects -
3 parallel 24 bit effects processors giving over 60 different effects types.
Keyboard -
61 (velocity, aftertouch)
Memory -
932 normal voices and 22 drum kits
Control -
MIDI In, Out, Thru
Resources
Images from The QS300 Website
Info provided by Bart Callaerts.
Reviewed December 2007.