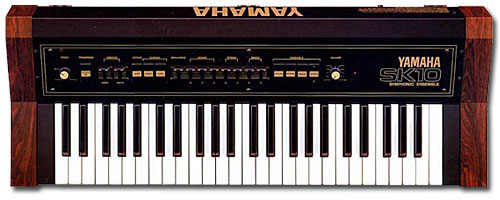 Yamaha SK-10
Yamaha's SK-series are combo-keyboards with synthesizer, organ, brass and string sections. The SK-10 was the first of the SK-series, released in 1979 - the SK-20, 30 and 50D followed in 1980, and the SK-15 in 1981, possibly as a replacement for the SK-10. The SK-10 is the only one in the series that does not incorporate a synth section, but has organ, brass and string sections that can all be played together for more interesting combinations. Very sturdy casing, 4-octave and fully polyphonic the features also include a leslie simulator, vibrato, attack and sustain rocker switches, a slider for 'brilliance' and a one-octave transpose switch. Not exactly feature-laden, but a lovely string synth sound. Interestingly, they are often referred to as 'analog', but in fact do have a digital section. Its organ has one of the early implementations of Yamaha's FM technology in a very limited form, concurrent with the GS-1/2 development platforms which eventually led to the DX series.
The ORGAN SECTION is available in all the SK series synthesizers. It offers a full range of stop levers from 1' to 16', percussion levers with adjustable decay, and controls for overall sustain, brilliance and decay. This gives you quite a lot to work with in the way of synthesis. The organ's sound is FM based and it sounds very B3 like. You can add a Vibrato and a noisy but good Tremolo to it. Its sound is all about the 70's era rock organ, especially with the Ensemble chorus effect in use. It also has a Leslie-speaker output around back.
The PRESET STRINGS section isn't very sophisticated and offers very limited editing capabilities. It is the string section though, that is worth aquiring this keyboard for. Very similar to the best of the string synths, (such as the Arp Solina/Omni or the Logan String Machine) it has a sound reminiscent of the opening of 'Oxygene' (J-M Jarre) or the lead line from 'Love Will Tear Us Apart' (Joy Division).

Yamaha SK-20
The SK20 adds the POLY-SYNTH SECTION: a 7-note polyphonic synthesizer with basic filter, pitch, envelope, and portamento controls. It features two (detuneable) oscillators per voice so it's good for thick pads. It lacks any bite whatsoever and, even in normal attack mode, has way too slow an envelope to be used for any bass or percussion sounds. But, the pads and strings you can get certainly shine and glitter like Bowie a-la Ziggy Stardust (especially when layered with the Strings section). It's like a good entry-level synthesizer. Basic and simple LFO, filters and ADSR envelopes. It has a built-in sustain and the Tremolo and Ensemble chorus effect also apply to this section.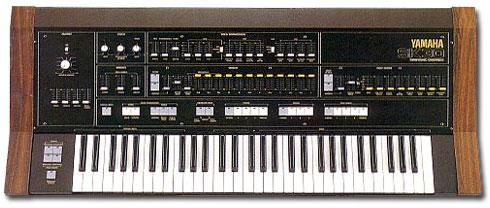 Yamaha SK-30
The SK30 (weighing in at over 90 lbs.) and SK50D also feature a SOLO SYNTHESIZER SECTION which is a single VCO driven mono-synth similar to a Roland SH-101. It has basic pitch, waveform, filter, volume, envelope generator and portamento functions. Its resonant filter isn't great and can't be driven into self-oscillation. The keyboard's after-touch can control the vibrato, tremolo, and brilliance effects. You can effectively play leads in the solo section while simultaneously playing chords in the string, organ or poly-synth sections.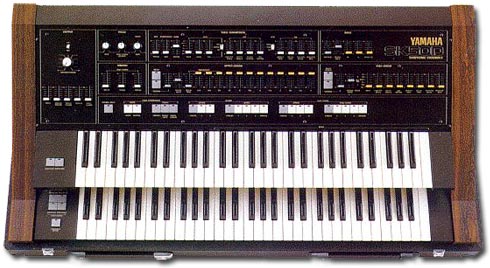 Yamaha SK-50D
The SK50D adds the Bass section as well as an additional second keyboard stacked above the other! The BASS SECTION provides an independent set of tone generators and controls for a deep, rich organ bass sound. It has its own set of stop levers, as well as sustain and brilliance controls.
All the different sections of the SK synths can be layered and stacked via the slider bars. You use the slider bars as a mixer to set the individual volume for each section. All sections have their own separate audio outs (though a mix out is also available). A great thing for live performances is the split keyboard mode. That way you can have, for example, a very nice, punchy bass sound from the synth section and a lead sound coming from the organ or solo sections. Although it has no patch memory, there are push buttons for instantaneous selection of organ, poly-synth and string preset sounds; there are three presets in each section. It also, has no arpeggiator or sequencer, and lacks MIDI. But it's cheap, easy to use, has a nice sound, full 61-note keyboard, and classic wooden panels. The SK's have been used by The Constantines, DJ Logic, Sigur Ros, and Ben Wa.
Demos & Media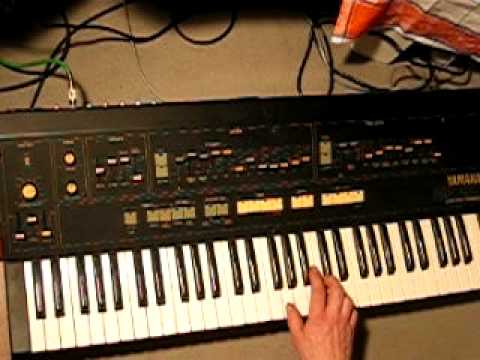 Yamaha SK-20 / Sound Demo
Specifications
Polyphony -
7-voice polysynth and string + Full FM organ + monosynth
Oscillators -
One VCO, two in polysynth section
LFO -
One with Sine waveform only (leslie simulator - 2 speed)
Filter -
Brilliance control, Resonant low-pass 12dB filter (non-self-oscillating)
Envelopes -
rocker switches for attack and sustain
Effects -
Vibrato, Tremolo and Ensemble effects for the organ and poly synth string sections.
Keyboard -
61 keys (122 keys on SK-50D)
Memory -
No user memory. 3-preset patches per section.
Date Produced -
1979-1980