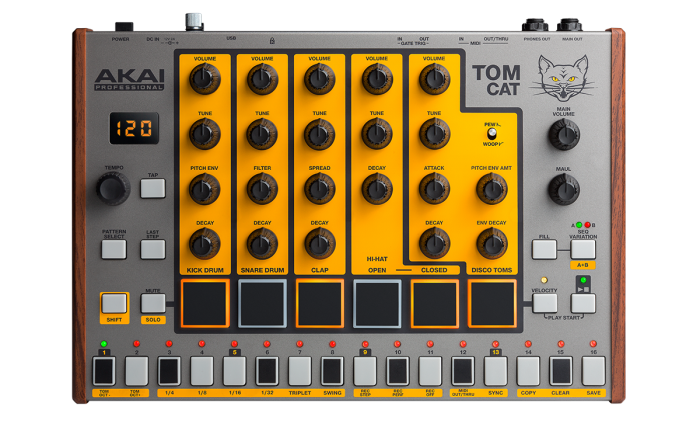 Akai is no strangers to hardware that divides the community as some people loved their Rhythm Wolf while others could not appreciate the quirky sounds it produced at all. The same can be said for the Tom Cat, which is different in terms of percussion, but just as unusual as its predecessor. The Akai Professional Tom Cat is an analog drum machine with built-in percussion voices that was released in 2015.

The built-in percussion voices of the Tom Cat include Kick, Snare, and Clap sounds and all on-board controls are continuously variable. This means that you can customize everything from the tuning and amplitude envelopes to the volume of each drum voice separately and in real-time. It features a fully analog signal path, so you will need to let it warm up before playing in order for the pitch to stabilize. Since the Tom Cat features an onboard 32-step sequencer, it also offers a classic drum machine workflow.

The Tom Cat is housed in an attractive desktop case design, which is constructed from plastic and faux wood panels for the end caps. The design of the Tom Cat is almost exactly the same as the Rhythm Wolf, so you'll only hear the real difference once you start playing. The top left of the front panel is dedicated to the display, where the tempo or other values are shown, which can be adjusted with the Tempo knob below it. Alternatively, you can press the TAP button next to the tempo knob to let the instrument detect your desired tempo. Below these are the Pattern Select and Last Step buttons as well as the Shift and Mute buttons. Right at the bottom you'll find the step indicators and step switches. The middle of the panel is dedicated to the Voice Controls with the pads below them. The six MPC-style pads are velocity-sensitive and you can also set the velocity of each individual step on the sequencer by pressing and holding the VELOCITY button. On the right side of the front panel, you'll find the main volume knob, Maul knob, Fill button, Seq Variation button, Velocity button and Play/Stop button.

The rear panel of the Tom Cat holds the Main Out, Phones Out, MIDI In, MIDI Out/Thru, as well as Gate Trig Out and Gate Trig In. Here you'll also find the DC In, Power button, Cable Restraint, USB port, and Kensington Lock slot.

Overall, the Tom Cat is very straightforward to use and you are given 16 pattern slots to work with. A and B versions of each are available, so you have a total of 32 one-bar patterns. With the Tom Cat Akai tried to incorporate the sound and design of a classic analog drum machine into a compact design. Whether or not you are able to appreciate its sounds is going to come down to personal preferences.
Demos & Media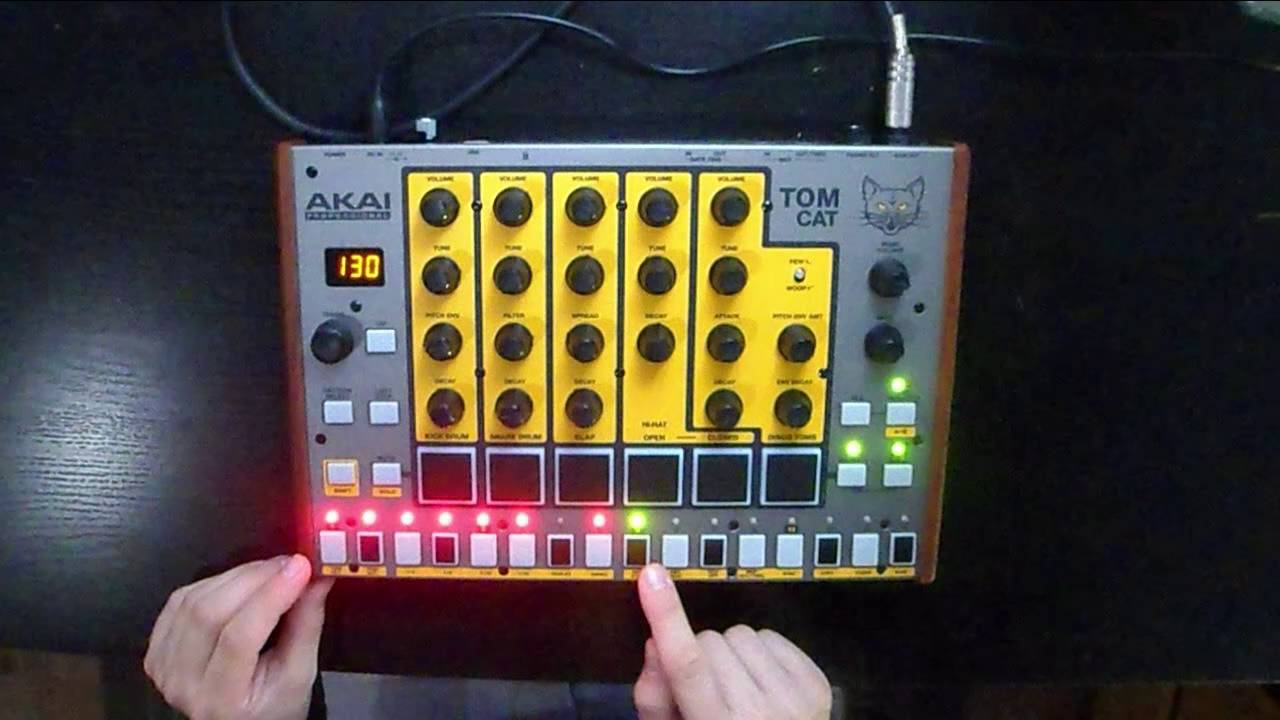 Akai Tom Cat Drum Machine Demo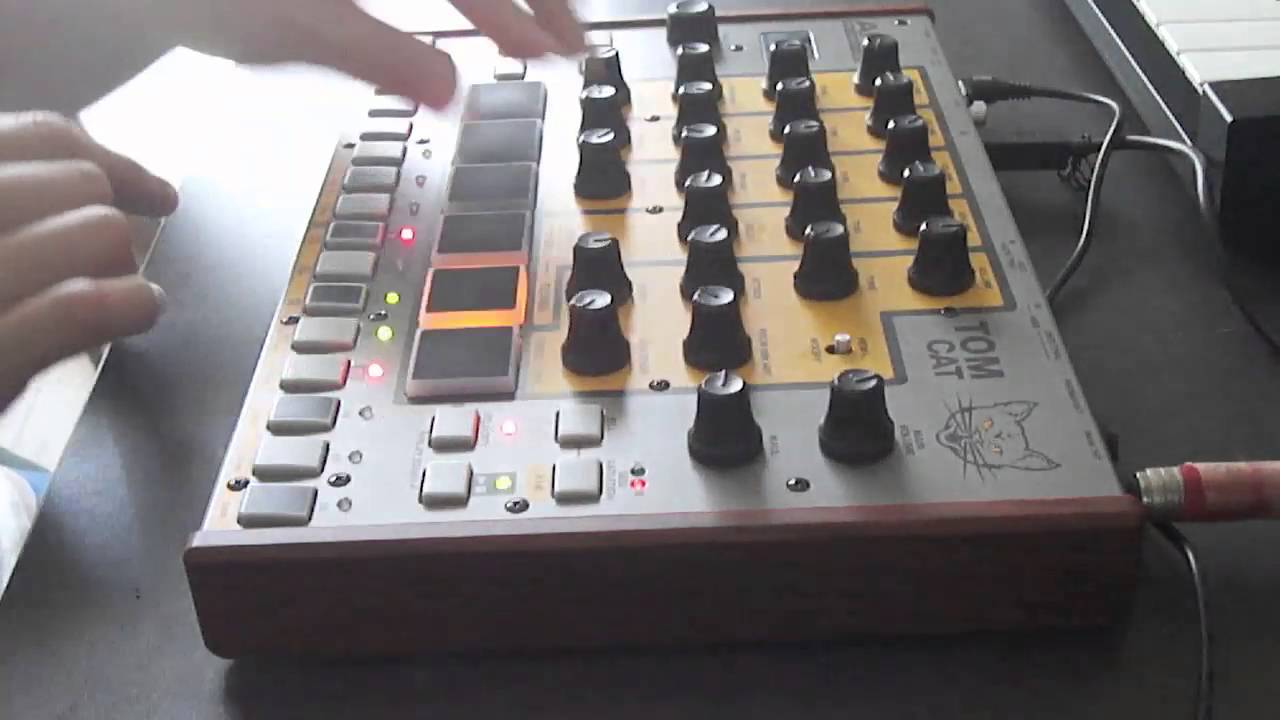 Specifications
VCA/Envelopes -
1 VCA with Attack and Decay
Controls -
MIDI In/Out/Thru, USB
Sequencer -
32-step Sequencer
Memory -
16 patches RAM, 16 patches ROM