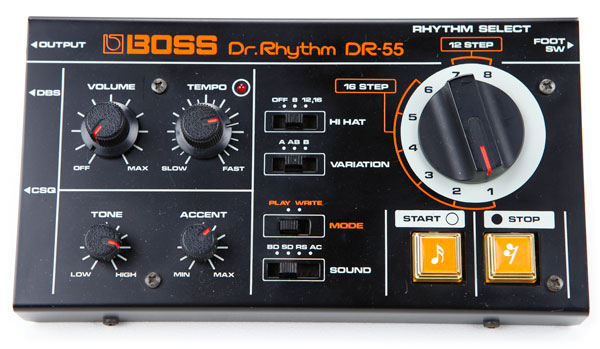 The DR-55 Dr. Rhythm was released in 1980 and was one of the first step-write-style drum machines, and it was the first rhythm machine in BOSS' successful Dr. Rhythm Series. It was small, inexpensive and easy to use - perfect for musicians at any level. Incredibly basic controls and sounds made this drum machine an instant hit among guitarists and other musicians looking for drum accompaniment to practice along with and even record into their home recordings.
The DR-55 could store up to six 16-step drum patterns plus an additional two 12-step patterns. The 12-step patterns allowed for 3/4 and 6/8 rhythms. A variation switch allowed you to, on-the-fly, alter the pattern playing. There were only four sounds in the DR-55 which included Snare Drum, Kick Drum, Rim Shot and Hi-Hat. The sounds are comparable to Roland's CR-series of rhythm machines as well as some of Roland's cheaper TR-machines (like the TR-505, TR-606). You can globally adjust the Volume, Tempo, Tone and Accent for the drum sounds.
Step-Mode programming was accomplished in a fairly basic manner: Switch the DR-55 into Write Mode and select a sound from the Sound switch, and use the Start button to place the sound and the Stop button to step through the 16 (or 12) beat pattern. Only Kick, Snare, Rim Shot and Accent could be placed in a pattern in step mode--the Hi-Hats could only be programmed as either Off, 8ths, 12ths or 16ths via the Hi-Hat switch. Primitive programming for sure, but very simple and effective.
Today, where its sounds can easily be sampled, the DR-55 may seem pretty useless. However it does have an authentic sense of nostalgia being BOSS' first DR-machine and also quite a successful early programmable drum machine. You may not find a need for such an instrument today although it does make a great conversation piece! It has been used by New Order, The Cure, Chris Carter, Sisters of Mercy, Chris & Cosey, Xeno & Oaklander, Soft Cell and Thomas Dolby.
Demos & Media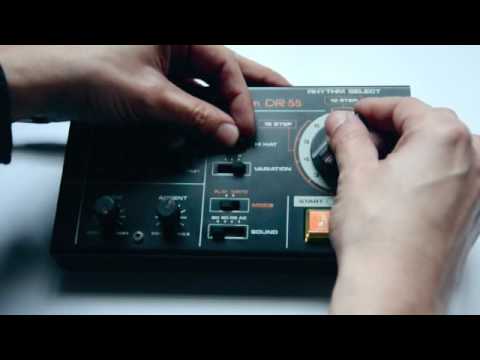 BOSS DR55 Programable Analog drum Machine
Audio Clip 1
A short loop using some of its sounds.
Specifications
Oscillators -
4 sounds (Kick, Snare, Rim, Hat)
Sequencer -
16 step sequencer
Memory -
8 patterns (six 16-step; two 12-step). No Song mode.