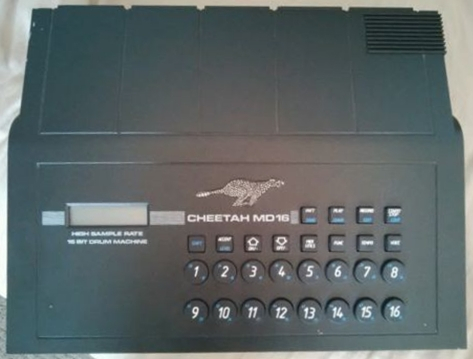 The MD-16 is a drum machine released by Cheetah, a UK based company, in 1991. It was aimed at the budget market where it faced competition from the likes of the Akai XR10, Boss DR550, as well as the Alesis SR16, which it dwarfed in terms of size.

The MD-16 features a plastic casing and has a flat top panel along with a slightly sloping front panel. The casing looks very cheap, but the MD-16 only weighs about 3lbs. It fares slightly better with the quality of the buttons, which feels firm instead of rubbery. The MD-16 features a total of 16 rubber playing pads that are velocity responsive. The pads are spaced very closely together, so some accuracy is required to trigger their sounds reliably. One advantage that the MD-16 had over competitors is that it offered greater sophistication, which also allowed for more flexibility. It wasn't as easy to understand as other drum machines of the time but was capable of a lot more if you take the time to understand it.

Along with the 16 rubber playing pads on the front panel, the MD-16 also had several function buttons for adjusting parameters. To the left of the buttons is a small 2x16 character LCD screen, which is backlit. With a total of 142 parameters, it takes a lot of button pushing to program the MD-16. On the rear panel, you'll find the power input socket, which uses an external power supply along with the MIDI In/Out/Thru sockets. Additional connections include the tape in and tape out sockets, a footswitch input socket, and several jack sockets. Also, the expansion socket, which was designed for ROM cartridges holding up to 192 additional sounds can also be found on the rear panel. Along with using plastic instead of metal for the casing, the MD-16 also lacks the additional footswitch input of the rack-mount MD16R version.

Even without the rear-panel expansion port, the MD-16 holds an impressive 41 drum and percussion samples in its 1Mb of internal memory. These samples are all 16-bit 44kHz and this drum machine also features the option to do your own pitching and reversing. The use of Voice parameters allows you to program per pad, including things like randomize pitch, randomize sample start point and more. According to Cheetah, these parameters help to "humanize" the sound of the MD-16.

The bright, sharp sound of the MD-16 wasn't bad compared to its competitors, although it lacked the ease of use of some other drum machines. Overall, it was a very decent piece of equipment for its time and had a lot to offer dedicated users.
Demos & Media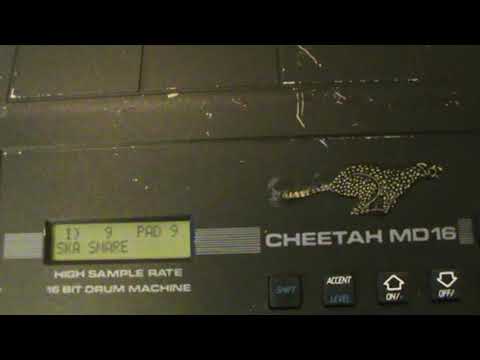 cheetah MD16 drum machine sounds demo RHYTHM MACHINES III
Specifications
Controls -
MIDI In/Out/Thru
Patterns -
254 Pattern Memory 254 Song Memory
Effects -
Pitch, Reverse, MIDI Delay, Shuffle, Descending Pitch Echo,
Memory -
1MB of internal memory holding 41 16-bit samples