An affordable classic early eighties sampler/workstation synthesizer. It's a sampler that sounds like an analog synth because it has analog filters! It samples at a low 8-bits (up to 17.6 seconds) so it's got that lo-fi sound which is great for some types of electronic music. Especially nice is its ability to create warm analog-ish pads and sounds. It uses those giant 5" floppy disks for storage. Also on-board is a useful 8-track sequencer. It can be hooked up to a Mac for easier editing using software such as Digidesign's Sound Designer.
The Emulator II had many new features for its time. MIDI, SMPTE and computer control. Editing samples includes truncating, manual/auto looping, reverse, velocity switch cross-fading and splicing samples together. A great feature is the 24 dB/oct analog 4-pole low pass filter. There are eight separate LFO's and eight extra individual outputs for each voice. Make no mistake, the Emulator II was a long standing professional sampler of the mid-eighties for musicians and sound designers.
The Emulator II received numerous upgrades during its four year production run from 1984 to 1988. These included the Emulator II+ with double the sample memory and the Emulator II+HD which adds a 20MB internal hard drive. The Emulator II series was replaced by the much improved Emulator III in 1988. Although both have definitely been overcome by modern samplers and workstations the Emulators remain as classic music machines. The Emulator II has been used by Depeche Mode, ABC, Genesis, Paul McCartney, Tangerine Dream, New Order, Front 242, Brian Wilson, Simple Minds, Enya, Jean-Michel Jarre, Vangelis, Stevie Nicks, Yes, filmaker/composer John Carpenter, ABC, David Frank Of The System, Mr. Mister, Phillipe Saisse, Stevie Wonder, David "Hawk" Wollinski, Pet Shop Boys; even Ferris Bueller!
Demos & Media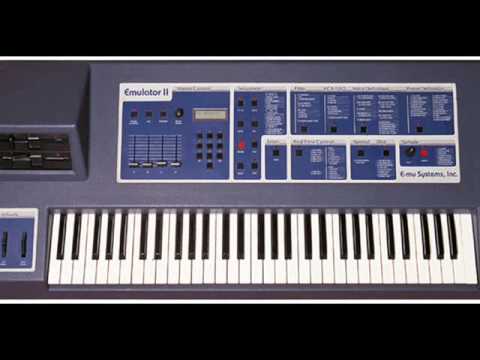 Emu Emulator II Sound Library Demo
Specifications
Sampler -
27kHz; 8-bits; 512 KB to 1 MB storage
Multitimbral -
8 parts (8 midi channels)
Keyboard -
61 keys w/ velocity & aftertouch
Filter -
24 dB/oct 4-pole lowpass with resonance
Control -
MIDI, SMPTE, RS422 Interface