Electronic Dream Plant (EDP) Gnat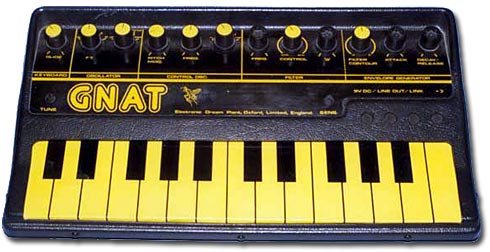 The Gnat
Gnats are usually nothing but an annoyance, but in this case, we'll make an exception. EDP's Gnat is a single-oscillator version of the Wasp. It has one digital oscillator and analog circuitry with a basic lowpass resonant filter, an envelope with Attack and Decay controls, an LFO which can modulate the pitch or filter, and a built-in speaker. Like the Wasp, it has a very un-playable touch-sensitive keyboard with 25 flat mini-keys. The Gnat also has EDP's proprietary control interface that could be used to link the Gnat to a Wasp or other EDP gear.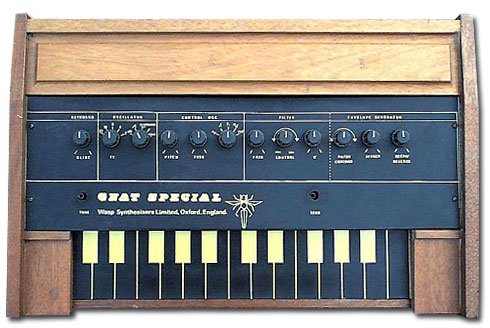 The Gnat Special
Like the Wasp, the Gnat also came in three versions. Besides the original, a Gnat Special (pictured above, released 1982) and Gnat Deluxe were released. They had wood panels and a few other changes but the Deluxe featured a standard 3-octave keyboard. The Gnat offers simple and traditional synthesis of analog bass, synth and other useful monophonic sounds. It's designer, Chris Hugget, also designed the Oxford Synthesizer Company's OSCar Synthesizer.
Demos & Media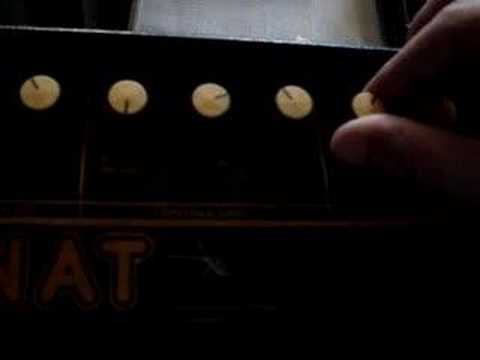 EDP GNAT & SPIDER(www.synthorama.com)
Specifications
Oscillators -
1 DCO (adjustable from 2' to 32'), switchable between ramp, square, enhance, and noise
LFO -
one LFO with sine, ramp, sawtooth, square, and random waveforms
Filter -
one low-pass 12dB/oct filter with resonance
Keyboard -
25 capacitive non-moving touch keys (or 37 standard keys on Deluxe model)
Control -
EDP proprietary digital socket INPUT. MIDI retrofits and some MIDI-CV converters are able to provide control.
Date Produced -
1980 - 1983