The Vintage Keys is a digital rackmount synthesizer that emulates the sounds of classic vintage synths. For an early 1990's ROMpler, this sound module was compact and actually sounded really good, loaded with good samples of vintage synth sounds. Just like the classics it has Portamento, a VCF (filter) and a Chorus effect. It has a lot of modulation capabilities which are all real-time and MIDI controllable. It does, however, have the typical brittle digital sound quality usually associated with digital sound modules, but it still makes nice pads, punchy bass and cool filter swept leads and works great for background synth sounds.
The Vintage Keys Plus was released in 1994. This model doubled the internal ROM size to 16 MB of sampled sounds. Memory patches were also increased to 512 slots. Original Vintage Keys models could be upgraded to match the Plus version using E-mu's 8 MB Expander Kit.
It is used by Hardfloor, The Prodigy, Fatboy Slim, Meat Beat Manifesto, Goldie, Olive, Faithless, LTJ Bukem, Roni Size, Future Sound of London, Depeche Mode, Laurent Garnier, Yesterdays and The Shamen.
Demos & Media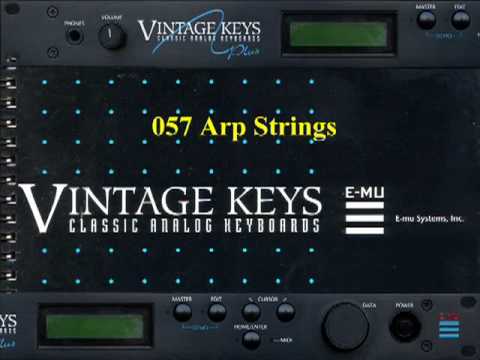 Emu Vintage Keys Plus Demo
Specifications
Polyphony -
32 voices + 16 part multitimbral
Oscillators -
8 MB of ROM samples. Plus model has 16 MB of ROM samples.
LFO -
Yes, with lots of modulation sources and destinations
Memory -
358 patches. Plus model has 512 patches.
Date Produced -
1993 / 1994