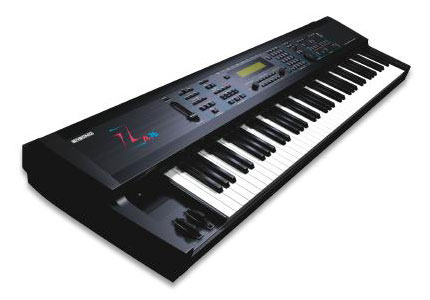 The ZR-76 is a 76-key, weighted action, stage and studio keyboard / workstation. The ZR-76 offers 64 voice polyphony and over 1200 digital ROM sounds, including the "Perfect Piano" by W. Coakley. There are also three expansion slots, an easy-to-use sequencer, interactive drum machine and a 24-bit effects processor. One of the best features is the sound finder: all you have to do is type the first few letters of the patch you want and the synth finds them for you, or you can browse through the sounds by categories. A big help when there are over 1200 sounds on-board.
While its sounds are very good, for ROM samples, it's the 16MB "Perfect Piano" expansion card that really stands out, providing one of the most realistic sounding pianos on the market, plus it gives you a couple of realistic electric pianos as well. This synth also has a ton of amazing retro-synth samples and some awesome guitar sounds. The available expansion cards (Urban Dance and World Beat, for example) are excellent as well. And the ZR even comes with a program that lets you edit and create your own sounds too.
The ZR-76 also features an idea/sketch pad performance recorder in which it remembers everything you have played, and it can play back what you just did or send it to your sequencer for editing or to add to an existing sequence. In addition, the exclusive Ensoniq Delta Quantize feature will adjust your performance to match your sequence tempo (in case your playing wasn't already perfect).
Yes, this is the synth featured in the HALO sound library, and it makes a worthy addition to any song writer's synth collection. It has been used by Baby Face and other rock, pop and R&B artists.
Demos & Media
Audio Clip 1
Demos of various patches. From Future Music CD issue 75.
Specifications
Oscillators -
16MB wave ROM, plus 16MB "ZR/Perfect Piano" Sound Set ROM. Over 1200 sounds, including The Perfect Piano by W. Coakley, plus 3 expansion slots.
LFO -
Yes, with sine, triangle, square waveforms
Effects -
6 FX units; 40 different FX
Keyboard -
76 keys; weighted action with programmable velocity
Memory -
778 patches (+751 drum elements)
Arpeg/Seq -
16 track sequencer; 24 songs; exclusive Delta Quantize feature
Control -
MIDI IN/OUT (16-part multitimbral)