JoMoX Resonator Neuronium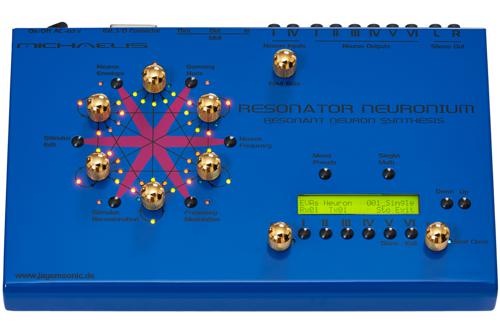 It's not often that a synthesizer can boast that it has never heard before sounds, but that was exactly the claim behind the Resonator Neuronium by JoMox. It is an experimental analog neural network synthesizer that was first released in limited quantities during the early 2000s. Since then, JoMox once again began making these units in 2018 after a lot of inquiries. However, they once again only did a small production run and the price obviously went up as well due to the many obsolete or hard-to-get parts required.
According to JoMox, they leave it up to customers to decide whether the Resonator Neuronium is a sound production tool, performance machine, musical instrument, synthesizer, FX unit, or objective piece of art. What can't be argued with, though, is that the Resonator Neuronium features an analog net which has two main analog layers in addition to a digital layer with sequencers.
The Resonator Neuronium is certainly very unique from a visual perspective. It is housed in an iron angled casing that has a striking blue-coated appearance. The left side of the unit is dominated by a grouping of buttons, knobs, and LEDs that form a hexagon. The black buttons that are located around the hexagon can be used to select direct commands along with the golden potentiometer knobs. A 24-character LCD can be found on the bottom right of the Resonator Neuronium and the Menu/Presets button above it is used to access the preset display. A series of soft buttons below the LCD can also be used to access sub-menus.
With its blue color scheme, unusual hexagon layout, and gold plated brass buttons the Resonator Neuronium is certainly something that stands out in any collection. It can also produce very unique sounds that some users have likened to animal noises, but this means it is something that might not be so easy to incorporate into your workflow. It's an amazing piece of equipment for anyone who loves creating experimental music, but there are also many users who have struggled to find the sweet spot when using it in their workflows.
The skyrocketing price of this instrument also means that it's only the most dedicated fans or anyone with a mountain of disposable cash that will be able to get their hands on one, even with the reissues.
Demos & Media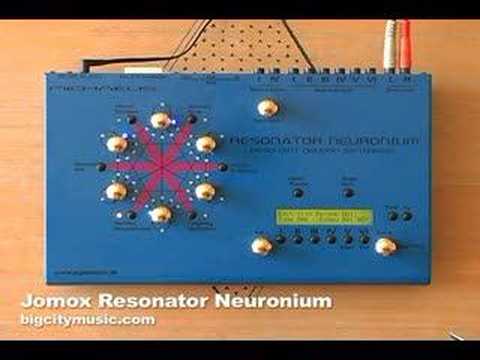 Jomox Resonator Neuronium Mutation with Mike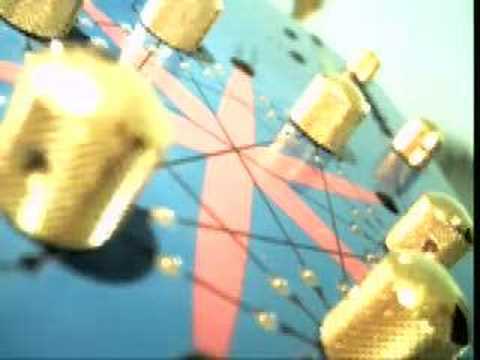 resonator neuronium closer
Title
Resonator Neuronium Operating Manual
Description
Resonator Neuronium Operating Manual
Specifications
Waveforms -
Additive, ROM
VCA/Envelopes -
6 Envelopes with ADSR,
Controls -
MIDI In/Out/Thru