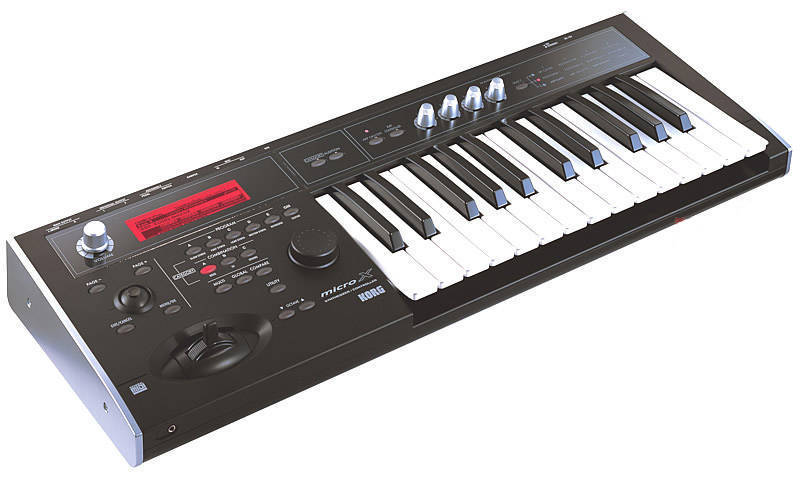 The MicroX was Korg's most affordable entry into the world of the company's HI (Hyper Integrated) synthesis engine, made popular by the Triton line of workstations. It was released in 2007, along with its larger X50 sibling. Instead of being packaged in a cardboard box, every MicroX came in a durable, bright orange road case. That, along with its diminutive form factor, made it perfect for touring DJs and performers who were looking for lots of bang for their buck. The synth's small footprint also made it a handy edition to a home studio set-up, where it could pull double-duty as a MIDI controller, via a standard USB Type B port. Originally only available in black, a limited edition white model was also offered later.

The MicroX featured a 64Mb Wave ROM. 32Mb contained the classic Triton waveset from the original workstation, while the other 32Mb featured new multi-sampled sounds and drum samples, many of which were unique to the MicroX. In total there were 642 multisamples and 929 drum samples, all of excellent quality, arranged into 640 preset patches. Like all Korg products of this time, those patches could be arranged into Combinations, 384 of them, which made it easy to set up layers and splits. The drum sounds could be organised into any of 40 kits. On top of all that, Korg also added a full GM soundset. With 62-voice polyphony, there were always plenty of voices for even the most complex layered combinations.

The variety and amazing quality of the Wave ROM meant that every musical style was covered. Best of all, every parameter in the MicroX could be programmed by the user, a process aided by a software editor/librarian, both stand-alone and VST, that shipped with the synth. Programming from the front panel was also possible and made easy by a large, backlit display and an array of front panel knobs and switches. Navigating around the different sections of the synth engine was easy enough, considering the depth of programming on hand, although using the software editor was definitely preferable.

The basic synth structure was that of a two oscillator, virtual-analogue synth, with plenty of modulation sources to tailor each patch very precisely. To get even more from the sound engine, the MicroX featured dual arpeggiators, with 256 user programmable memory slots, and an effects section that allowed up to four effects per patch/combination, from an available 89 different effects.

All of this in such a tiny synth may seem fanciful, but Korg pulled it off brilliantly. You got everything that made the Triton workstation an industry standard in a tiny, portable package that was perfect for touring musicians and small home studio set-ups alike. Ultimately, it's biggest limitation was it's two octave, velocity-sensitive keyboard, which made split combinations and chords difficult. However, if you could live with just 25 keys, the depths of the MicroX's abilities would keep any synth player happily exploring its sonic possibilities for years.
Specifications
Oscillators -
2 oscillators
Waveforms -
642 multi-sampled waveforms 929 drumsamples
LFO -
2 LFO per oscillator, 4 per patch
VCA -
3 6-point envelopes (Osc, Filter, Amp)
Control -
MIDI In/Out, USB MIDI
Arpeggiator -
2 programmable (256 presets)
Effects -
89 effect types, 3 per patch
Keyboard -
25 keys w/ velocity
Memory -
640 Programs, 384 Combinations
Resources
Review by: BONES
Image from: https://www.long-mcquade.com