Korg released the N364, along with its 76 key version the N264, in 1996. It is a music workstation synthesizer that is based on the proven Advanced Integrated System, or AI2, synthesis engine by Korg. It offers users eight megabytes of sample ROM and features 936 programs and combinations. These include 430 Multisounds, along with 215 drum sounds. The Korg N364 also has polyphony with 64 voices and it was the first keyboard ever from Korg to feature Real-time Pattern Play and Record. This allows users to record and save their musical phrases in the form of patterns that can then be triggered with an assigned key. Unfortunately, the Korg N364 lacks sampling features, but it does make use of a 16-track sequencer capable of a maximum event capacity of 32,000.

The Korg N364 has 61 keys and while they are semi-weighted, they do have a very plastic feel to them. To the left of the keyboard is a joystick that allows for real time-control of certain program parameters, such as pitch bend, VDF modulation intensity and more. Above the keyboard is a large, clear LCD screen, although it is unfortunately not back-lit. Cursor buttons and a number keypad can be found to the right of the screen, while the left side of the synth features the volume slider, function buttons, rec/write button, start/stop button and more. The rear panel of the N364 is dedicated to the ACV power socket, power switch, contrast knob to adjust the LCD screen, MIDI In/Out/Thru, stereo headphone socket and 1/4 inch phone jack connections for Output 1/L/Mono, 2/R,3,4. On the back you will also find space to connect an optional Korg Damper pedal or Korg PS-1 or Ps-2 foot switch. While the N364 allows for data storage on a floppy disk, you'll find it on the side of the synth and not the front as with most workstations.

Korg N364 users generally like the sounds of the strings and pads of this instrument, but the piano sounds are commonly criticized. The operating system used with the N364 is also not the most intuitive. However, the 16-track sequencer makes it great for people who want to create complete songs without a DAW and the on-board arpeggiator is also a useful addition.

One notable user of this line of synths by Korg is Tuomas Holopain of the symphonic metal band, Nightwish.
Demos & Media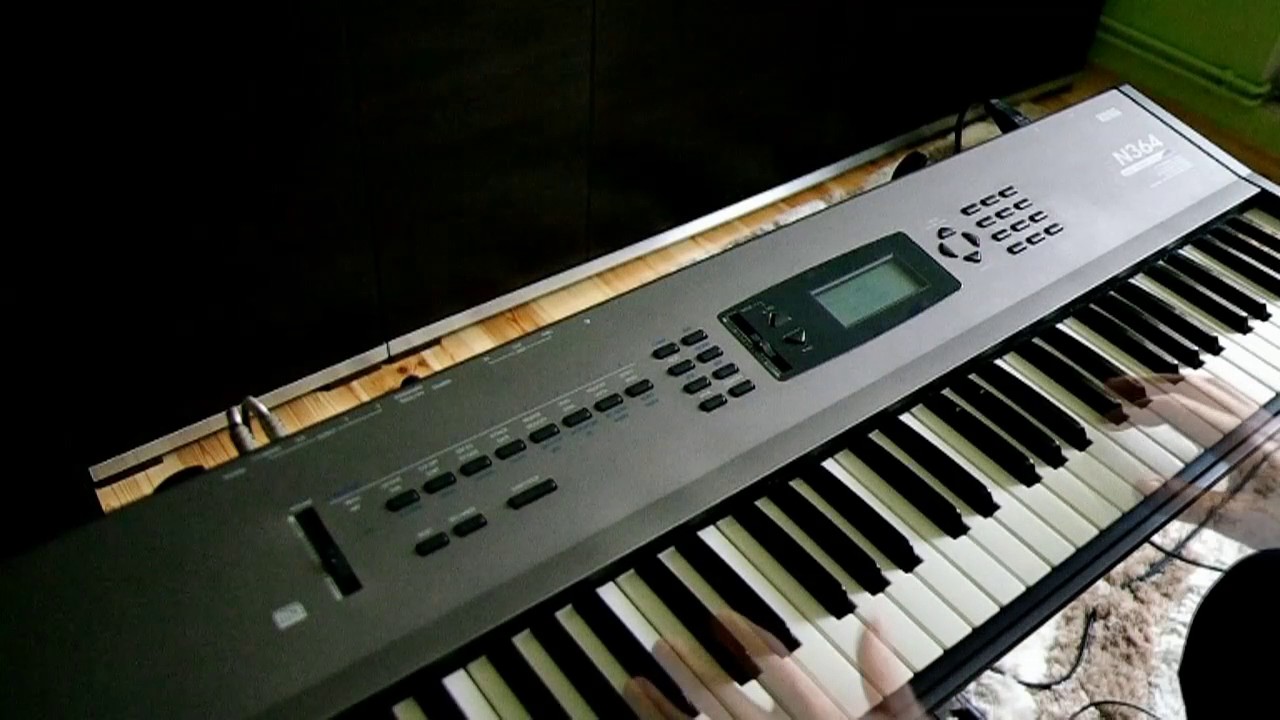 Korg N364 - My Favorite Combi Sounds part. 1
Specifications
LFO -
3 LFO with triangle, pulse, saw up-down, random,
VCA/Envelopes -
Two envelopes with attack, decay, sustain, release
Control -
MIDI In/Out/Thru
Sequencer -
32,000 event MIDI sequencer, 16 tracks,
Arpeggiator -
Up, Down, Alt1, Alt2, Random,
Patterns -
100 user patterns
Effects -
2 digital multi effects, 47 effects
Keyboard -
61 keys with velocity and touch sensitivity