Kenton Electronics Pro-Kadi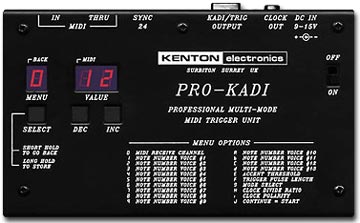 PRO-KADI interfaces with almost all drum machines. Cheaper than a retrofit and just as effective, it can be used with the TR-808, TR-606, CR78, CR8000, Wasp and many, many more. Most drum machines do need a small modification to run with this interface. Kenton can supply and/or fit sockets kits to interface your drum machine with the PRO-KADI. Kits are available for the TR-808, TR-606, CR-78 and CR-8000, Simmons SDS-5 and 7.
This multi-mode MIDI trigger unit is highly configurable and capable of driving up to 13 outputs. Hundreds of other control applications exist, such as lighting control, robotics and ignition of small explosives for theatre productions. Please email us if you have a specific MIDI control project.
Specifications
Wasp Mode To Control Wasp/Gnat Synths
KADI Mode To Control Drum Machines With A Kenton Socket Kit
(Accent Threshold Adjustable In KADI Mode)
Trigger Mode: 13 TTL Outputs
TTL Outputs May Be Latching (High When Key Pressed), Or Pulses
Pulses May Be Positive Or Negative (Inverted)
Pulse Width Adjustable Between 100us-10ms (100us Steps)
Long 250ms Pulse Width Available For Control Of Relays
Individual Note Numbers Assignable For Each TTL Output
Note Or Program Change Control Of Triggers Possible
MIDI Thru
Sync 24 and Arpeggio Clock Outputs
Variable Clock Divide Rate And Polarity
User Friendly Interface With 3 Digit LED Display
Power Supply: 9-15V dc 100mA
Dimensions: 165mmx96mmx42mm