The Mono Lancet '15 is an analog monophonic synthesizer from the German-based Vermona. This two-oscillator synth features an ADSR envelope as well as one LFO and has a distinctively retro look. It is built like a tank, though, and everything about it feels very sturdy despite its compact size. The metal chassis has a two-tone color design while the star-shaped knobs are cream in color. The entire unit also tilts forward slightly, which is a design choice that makes it easier to see the text for the knob functions.
The back of this desktop synth features both MIDI In and Thru ports along with the audio out and an expansion socket. The 12V power supply socket is also on the rear of this synth, but the "Overkill" button is slightly more puzzling. While the manual stresses that it is not a power switch, it pretty much fulfills the same function.
On the front panel, there are three rows of controls with the top section reserved for the VCO's. Along with three-octave switches for each oscillator, there are also knobs for "Detune", "Glide", "LFO INT" and more. The second row is dedicated to the VCF and VCA knobs. Here there is a three-position switch to toggle between the EG, gate, or always on as well as "SEQ" and "TRIG" buttons. Finally, the bottom row of knobs is split into segments for the VCO with a master "Tune" knob, the LFO, and the EG with the ADSR knobs. The overall look of the Lancet is functional, but not exactly exciting. Nevertheless, it gets the job done and is easy to use at a glance. The large knobs of this synth are also perfect for precise adjustments.
In terms of sound, the Lancet has a lot in common with the Vermona Perfourmer, which means with some tweaking you can get some classic Moog sounds from it too. Small mono synths are a dime a dozen these days, but the Lancet still manages to impress with its punchy envelope and creamy filter. Its filter section features a 24dB low-pass filter that is capable of self-oscillating, so users can expect a remarkably stable sine wave with a 2 1/2 octave range. In addition, the cutoff frequency can be controlled via MIDI. The Lancet comes out on top when compared to other synths in the same price range, such as the Doepfer Dark Energy.
Overall, if you are looking for a mono synth with a warm sound and rugged build quality you can't go wrong with the Vermona Mono Lancet.
Demos & Media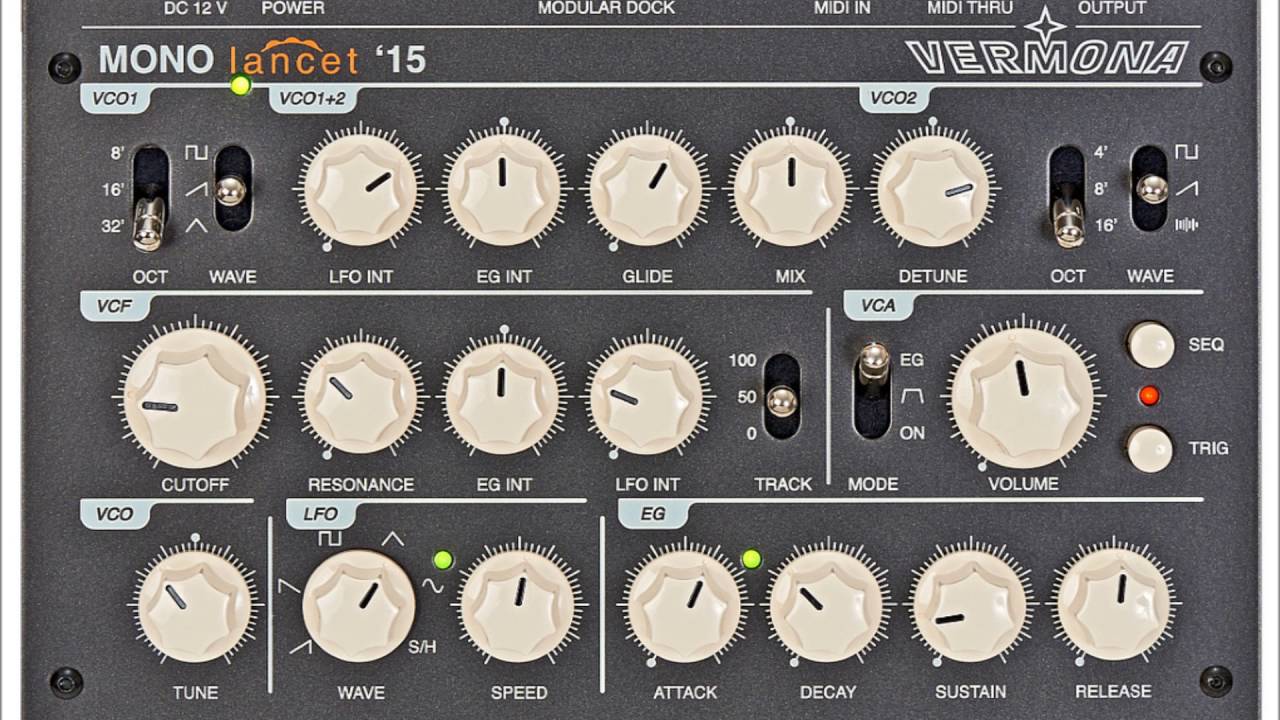 Vermona Mono Lancet 15 Demo Sounds
Vermona Mono Lancet Audio Demonstration (HD) by INHALT
Title
Mono Lancet '15 User Guide
Specifications
Waveforms -
Saw Down, Saw Up, Square, Triangle,
Slope -
24dB Slope (4-pole)
LFO -
1 LFO with Sample & Hold, Saw Up, Saw Down, Square, Triangle