Roland released their Fantom-S workstation keyboards in 2003 as a complete solution for professional music production. The Fantom-S is the 61-note keyboard version of this synth, with the "S" standing for its advanced studio functionality and powerful sampling capabilities, according to Roland.

The Fantom-S offers seamless integration of both audio and MIDI by using ROM waves and sampling with realtime timestretch capability. It features 32MB of sample RAM, which can be expanded to a maximum of 288MB and it is compatible with the .WAV/AIFF format. It supports multisamples as well as functions, such as Chop and Normalize that were typically only found on dedicated samplers of that time. In addition, it also features 16MB of flash RAM along with optional SmartMedia storage. Even though it has a rich array of internal sounds, these can also be expanded by installing up to four wave expansion boards.

The Fantom-S earned a lot of praise at the time for offering the kind of warm and realistic sounds that people expect from a Roland product. While the 61 keys with velocity and channel aftertouch were very decent, the inclusion of 16 pads with velocity and aftertouch were also a big selling point for many people. Another feature of the Fantom-S is its V-LINK functionality, which allows you to use real-time controllers, such as the dynamic pads or D Beam controller to control images while performing music in order to create new forms of expression while playing.

On the front panel of the Fantom-S you'll find a D Beam that is not just assignable, but can also function as a pad trigger or as a solo synth to play the S as a monophonic synthesizer. The left side of the instrument is dedicated to the expansion bay, which is where you can install a wave expansion board or additional memory. In the middle of the instrument is a large panel LCD with various knobs and buttons around it to adjust parameters or switch modes. The pads can be found on the right side of the front panel, while the pitch bend/modulation lever is to the left of the keyboard. Everything is laid out in a straightforward manner, with a controller section, sound generator section and sequencer section. On the rear panel is the power on switch, AC inlet, SmartMedia card slot, USB connector, MIDI connectors, outputs and phones jack. You'll also find pedal jacks on the back panel for connecting optional expression pedals or a hold pedal.

Despite a few drawbacks, such as the lack of digital input, the Fantom-S is feature packed and easy to use synthesizer with plenty to offer.
Demos & Media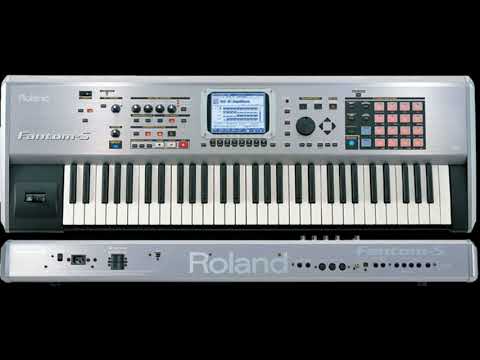 Specifications
Filter Modes -
12dB slope, 24dB slope, High Pass, Low Pass, Band Pass, Comb, Resonance,
LFO -
2 LFO with Sample & hold, Saw up, Saw Down, Sine, Square, and Triangle,
VCA/Envelopes -
2 envelopes with release, attack, decay, and sustain,
Controls -
MIDI In/Out/Thru
Sequencer -
16-track sequencer
Arpeggiator -
128 user and 128 Rhythm pattern presets, Chord memory,
Keyboard -
61 keys, with velocity and channel aftertouch
Memory -
64MB wave memory
Sampler -
44.1kHZ sampler with 32MB internal memory