The Jupiter-8 was without a doubt one of the flagship synthesizers for Roland, at least during the early eighties. Roland followed it up with the workhouse Jupiter-6, but after that the Jupiter moniker was seemingly retired. That is until 2001, when Roland Corporation unveiled the Jupiter-80, a 256-voice polyphonic synth. To say that the Jupiter-80 was one of the most anticipated new synths of its day would be an understatement and it had a lot to live up to.

Roland released the Jupiter-80 with the intention of it being a live performance powerhouse, so it is bigger and bulkier than their Fantom G7 workstation. Roland also paid homage to the visual style of the Jupiter-8 with the colorful control panel of the Jupiter-80, it's panel graphics and even the aluminum end blocks. However, the Jupiter-80 is not just a modern remake of the classic. Instead of being analogue, the Jupiter-80 is a completely digital synthesizer that makes use of Roland's "Supernatural" sampling technology for its sounds. This means that it is able to deliver extremely realistic and dynamically smooth sounds. It also has a "Supernatural Synth," which is a virtual analogue modeled synth capable of delivering virtual analogue waves and more. In addition, the Jupiter-80 makes use of "Behavior Modeling Technology" to allow for more expressive playing.

This synth has a 76-note, synth-action keyboard that is semi-weighted that also has a pitch/mod wheel, D-Beam, four volume part sliders/switches and four assignable dials. Instead of including a huge number of hardware controls most of the action on the Jupiter-80 takes place on the 800 x 480 color LCD touch screen. The screen is easy to read and while it is not multitouch, it is very responsive to use. It can be tricky to operate the Jupiter-80 for people used to conventional patch and performance structures as it makes use of "Tone," "Live Set," and "Registration" which can be confusing until you wrap your head around how these function.

Overall the Jupiter-80 is a very robust performance synth that offers great acoustic sounds and a range of unique performance oriented features. However, it can take a while to fully understand the programming architecture and its price also put it out of reach of most users when it was first released. In addition, the Jupiter branding caused confusion among those who were expecting something similar to the original Jupiter analog synthesizers. Although discontinued, the Jupiter-80 did receive some interesting updates, such as free sound libraries containing all-new tones, live sets, and arpeggio patterns along with emulations of other classic synths.
Demos & Media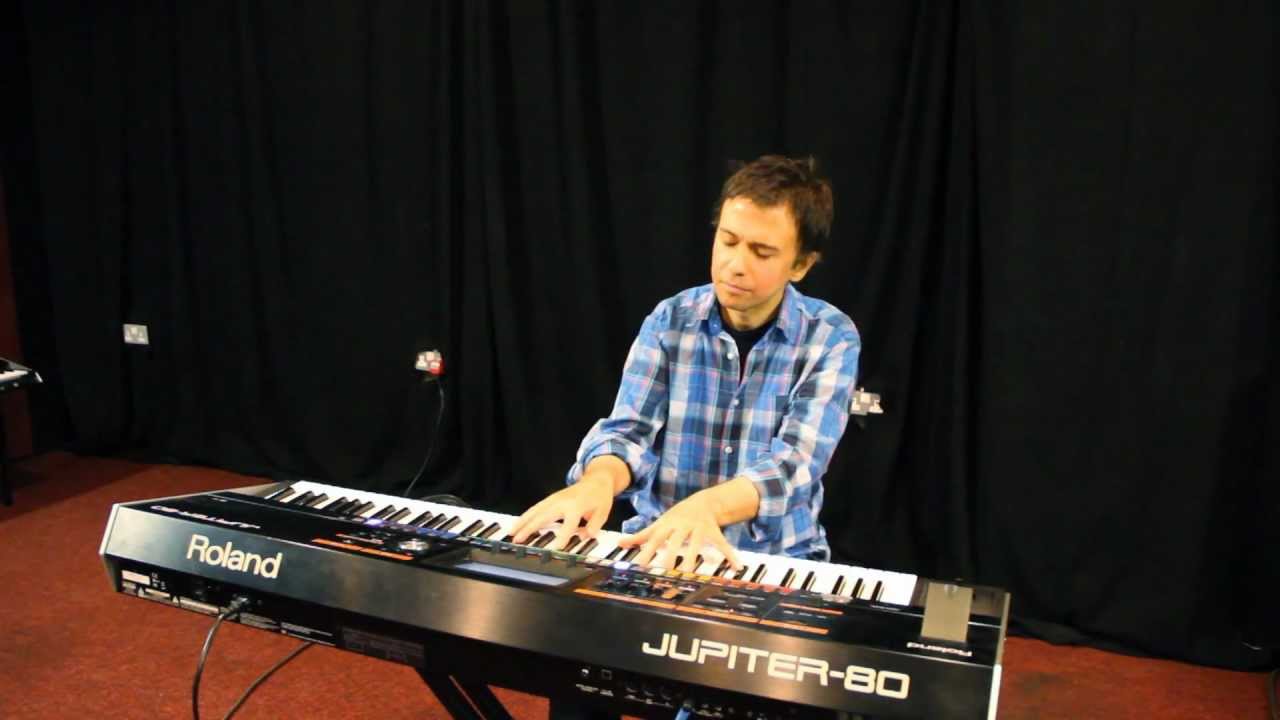 JUPITER-80 Demonstration: Bernie Smith (Take That)
Specifications
Polyphony -
256 voices (varies according to the sound generator load)
Multitimbral -
Internally: 10 / Playable from external sequencer: 4
Control -
MIDI In/Out/Thru, USB
Arpeggiator -
Preset: 128 styles / User: 128 styles
Effects -
8 multi-FX ( 4 Upper, 4 Lower), 3 reverbs (Upper, Lower, Solo/ Percussion), 2 compressor-EQ-delay chains (Solo and Percussion), global 4-band semiparametric EQ.
Keyboard -
76 keys (with velocity and channel aftertouch)