BOSS SYB-5 Bass Synthesizer
The SYB-5 is an analog modeling bass synth packed into a compact pedal, like the SYB-3. It was released in 2004, 8 years after the SYB-3. The sound is more industrial and aggressive than the SYB-3, which is more old-school and analog sounding.
The main difference is the addition of the LFO rate control and five waveforms instead of three. And there is no more noise generator or autowah. The Square waveform is fatter, but the Saw waveform is far better in the SYB-3. The tracking is better than SYB-3's, and the price lower. You can control LFO with knob, of course, but also with a Roland Expression Pedal (sold separately).
The SYB-3 and SYB-5 are close and different at the same time... so play with both!
Demos & Media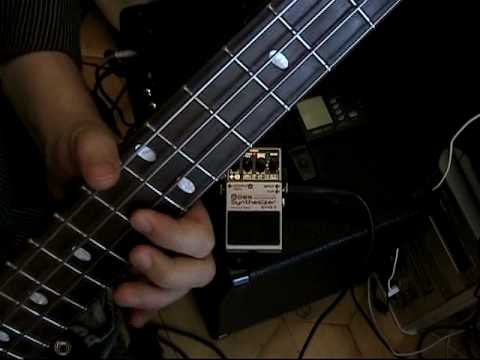 BOSS SYB-5 Bass Synthesizer Demo (with bassplaying)
Specifications
Oscillators -
Analog Modeled DSP with 1 Osc. (saw, square, PWM)
Filter -
Lowpass with resonance, cutoff and decay controls
Effects -
2 wave shape (normal / reverse) for external sound
Control -
EXP Input to control filter cutoff and LFO rate via EV-5 Expression Pedal (sold separately)