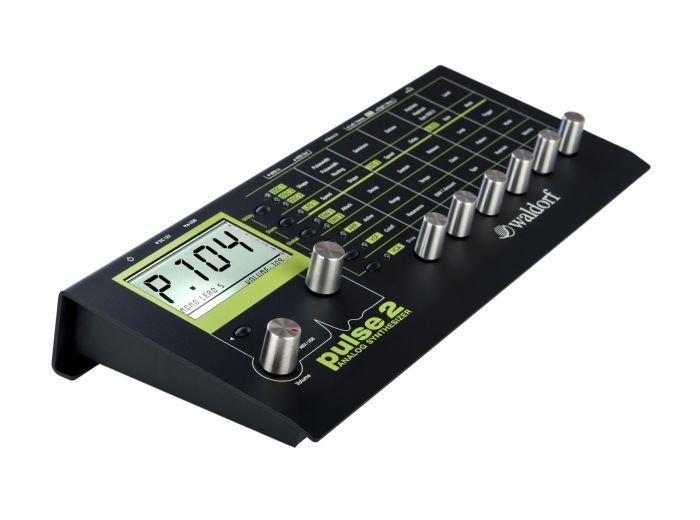 Waldorf broke the mold in 1996 with the launch of their Pulse, which was one of the few analog synths of an era that was dominated by digital synths. Of course, since then a lot of things have changed and analog synths made a big comeback, which means there was a lot more competition when Waldorf released the Pulse 2 in 2013.

Pulse 1 owners will know that it had a powerful sound and came as a rack-mountable module. For the Pulse 2, Waldorf has decided to make it a little smaller and release it as a desktop unit. It still packs some weight, thanks to the metal casing that houses it, but the Pulse 2 is definitely more compact than its predecessor. Don't let its size fool you though, the Pulse 2 is still a very competent synthesizer. This means that unlike the original Pulse, the Pulse 2 is perfect for people with limited space or anyone who regularly carry their gear around.

In terms of features, the Pulse 2 has three very flexible analog oscillators, while its multi-mode filter with a low-pass 24dB mode along with 12dB low-, band-, as well as high-pass modes gives it more versatility than the original Pulse. In addition, it has two ADSR envelopes and two LFOs with a wide frequency range.

When it comes to the design, the Pulse 2 has a sleek and stylish look, thanks to its case shape as well as the color scheme. The case feels very durable and it has eight steel knobs to use for the editing process. One slight issue with the design is the way in which the MIDI connections are so deeply recessed, making it tricky to connect wider ended cables. It's also strange that while the display screen is very clear, it dedicates most of the screen space to the number of the current patch you are using, while the name and class is displayed in much smaller text below the number. An editor is also available that allows users to make use of their DAW to edit the Pulse 2 via USB.

Overall, the Pulse 2 has plenty of variety to offer and a large on-board patch pool to get you started with. The matrix method or programming is not quite as much fun as messing around with a full panel of knobs, but trimming things down did allow Waldorf to keep the size of the Pulse 2 compact. The Pulse 2 also sounds a lot better than its predecessors and it is still worth a look.
Demos & Media
Title
Waldorf Pulse 2 Manual
Description
Waldorf Pulse 2 Manual
Specifications
Polyphony -
Up to eight note polyphony
Oscillators -
3 Analog Oscillators
Waveforms -
Saw, Square, Triangle, PWM, APW,
Filter -
Multimode filter with a low-pass 24dB mode and 12db low-, band-, and high-pass modes
VCA/Envelopes -
Two ADSR Envelopes
Arpeggiator -
Up, Down, ALT, RAND, #Up, #DWN, #Alt,