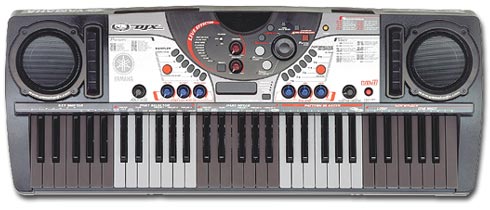 The DJX-II is a Groove Machine and entry-level keyboard designed for great sounding techno and dance music. Features include an on-board but limited 8-bit sampler and Yamaha's AWM synthesis technology for sounds similar to the AN1x, CS2x, and CS6x. Designed for DJs and budding musicians, the DJX-II is a live groove-machine, no keyboard skills required! The keys are primarily used to select patterns, mute parts, add preset hits or fills, and shift the key of the patterns playing. But in voice mode, you can play any of its 202 sounds or drums across the keyboard like a regular synthesizer.
The DJX-II is chock-full of DJ style features that suit this keyboard for live use in clubs, raves and other dance parties! There's a Bass Boost System to add extra 'oomph' to your sounds, especially bass-lines. An Audio bpm Counter will sync the DJX-II up to your vinyl records or CDs via the RCA line inputs. The Pattern Player can generate about 700 various dance-oriented patterns and variations, available at the press of a key! Additionally there are dynamic filters, digital effects like reverb and chorus, Isolator - a 3-band EQ, tap-tempo, a ribbon controller, a key shifter, and built-in speakers.
Patterns are assigned by the user to the Pattern Player Part keys (2nd set of white keys). Parts can be muted using Part Mixer keys (2nd set of dark keys) to build-up or break-down your tracks. Additional hits and fills can be added using the Activator keys (3rd set of dark keys). The Key Shifter keys (1st set of dark keys) can transpose all your patterns for a sense of chord progressions or key changes. While patterns are playing, Voice mode can be engaged for jamming live with the grooves. The Part Selector keys (1st set of white keys) are used to select individual parts of a pattern, ie: kick, snare, bass, hi-hat, percussion and riff layers. Selected Parts can then be altered via the dynamic filters and part levels. Internal sounds can not be edited, however; and the sampler features few edit parameters.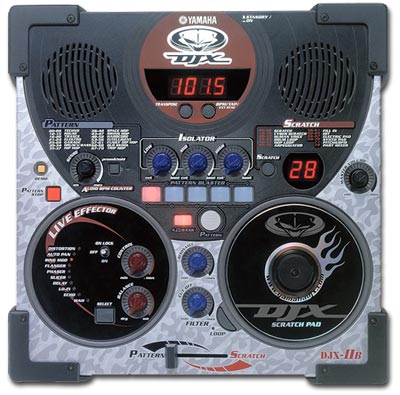 The DJX-IIb is a box-shaped desktop module form of the keyboard version. This particular module is best suited for use by DJs. It packs in several new DJ useable features such as a scratch pad for 'scratchin' the patterns, and a fader to fly-in scratches. A Ribbon Controller on the keyboard version allows for scratching, as well as pitch bend, and more. Basic MIDI-clock sync and data dumping is implemented in both models, but the absence of MIDI note send/receive and RCA-style audio inputs & outputs reveal a design suited for home, hi-fi or DJ/PA use. If you are an inexperienced musician or keyboard player, but want to make your own dance music, or layer grooves over DJ sets, then check out the DJXII!
Demos & Media
Audio Clip 1
Here are three samples of the sort of grooves you can get out of the DJX-II.
Specifications
Oscillators -
AWM: Advanced Wave Memory: 202 sounds (180 Instrument Voices + 23 Drum Kits)
Sampler -
8-bit, 22kHz, 6 sample pads (3 loops, 3 one-shots), 128KB memory (about 6 seconds for all pads, maximum 3 seconds per pad)
Filter -
Dynamic Digital Filter with resonance, cutoff
Effects -
Live Effector: 10 Presets (Distortion, Auto Pan, Ring Modulator, Flanger, Phaser, Slice, Delay, Echo, Lo-Fi, Wah); Reverb: 11 Presets (Can be set only via MIDI); Chorus: 7 Presets (Can be set only via MIDI); 3-Bands Isolator EQ (-12dB - +12dB)
Keyboard -
61 Keys (No Touch Response)
Memory -
Pattern Player: 70 Preset Patterns + 10 Variations of each (700 total), 5 User Patterns + 10 Variations (50 total), 52 Preset Activator Kits (5 loops and 8 one-shots each); Performance Recorder: 6 pads, 18KB memory (about 2500 events for all 6 Pads)
Control -
MIDI Clock In/Out, Remote Control, Tone Generator, Bulk Send/Receive