Yamaha PortaSound PSS-470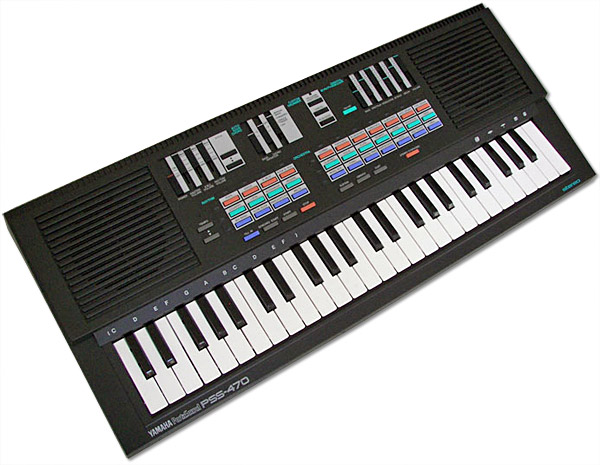 The PSS-470 was released by Yamaha in 1987, and was clearly aimed at non-professionals. This is the type of keyboard that would not be surprising to find in the musical instrument section of a major toy store. It's a simple synth built in a plastic case, with built-in stereo speakers, stereo outputs and 49 mini-sized keys. It's designed to be lightweight and portable. Yet at its heart it has inherited Yamaha's DX series digital FM synthesis, which is enough to garner this synth some attention.
There are 21 preset sounds, all of which sound pretty silly. Fortunately, Yamaha included a section called "Digital Synthesizer" which is essentially a manual editing mode. In this mode, six sliders at the top right of the instrument allow you to shape DX/FM sounds. It is a very limited and simplified means of FM synthesis, but for many users this freedom from the complexity of having to attempt to craft FM sounds could be quite fun! The WAVE slider steps through a few very basic waveforms. The SPECTRUM slider is akin to a DX's frequency setting. The MODULATION is more of a timbre/brightness control that renders the sound from dull to bright, which is almost like filtering. The ATTACK and DECAY sliders both control the characteristics of the envelope. There is also a VOLUME slider which controls the output level of the synthesizer section.
Typical of this style of all-in-one synthesizer for casual consumers, is the built-in rhythm and accompaniment sections. The rhythm section offers 12 drum patterns which are comparable to Casio synths like the VL-Tone VL-1, with patterns like Bossa Nova, Rock, Disco and March/Waltz. They are pretty silly. But once again Yamaha did go one step further by adding the "Custom Drummer" which allows you to add some additional drum hits to the current pattern, to give it a little extra flavor of your own. There are only five of these drum sounds - the basics - kick, snare, tom, cymbal and hi-hat.
There is also the "Auto-Bass-Chord" accompaniment section which will play a chord and bass line appropriate to the selected rhythm pattern. Chords are selected from the lower octave-and-a-half of the keyboard, so you can play the melody/lead in the upper octave. The rhythm section also offers "Fill-In" and "Variation" buttons to keep your rhythm pattern from getting too boring. Another nice feature Yamaha added was individual volume controls for the "Auto-Bass-Chord" and Drum sections.
At the end of the day, the PSS-470 seems like a pretty advanced synth-toy, but still one that no real musician would consider using. However, the PSS-470 is so cheap that not only does it provide DX sounds at a bargain price, but circuit-bending these things has become quite common. That means some pretty wacky and unique things can be done, or have already been done to this synth. And with just enough quality touches added by Yamaha that make it a little more flexible than its Casio contemporaries, the PSS-470 could actually prove quite useful and exciting!
Demos & Media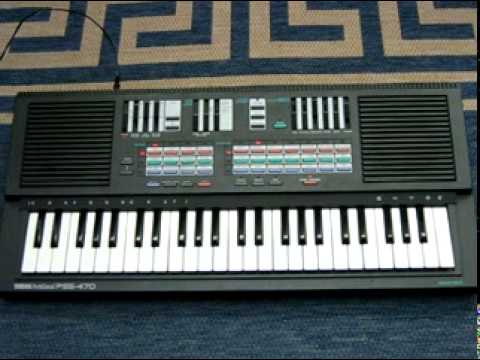 Circuit Bent YAMAHA PSS-470
Specifications
Polyphony -
8 voices + 1 Drum kit (5 drum sounds)
Oscillators -
2 FM Operators
Filter -
Spectrum and Modulation sliders
Envelope -
Attack and Decay sliders
Effects -
Sustain, Vibrato, and Duet
Sequencer -
Auto-Bass-Chord: Automatic bassline and chord accompaniment feature. Chords are selected using the lower octaves of the keyboard.
Custom Drummer: Add any of the 5 drum sounds to the selected rhythm pattern in real-time.
Patterns -
12 Rhythm patterns for the Drum kit and Auto Bass Chord: Pops, Disco, 16 Beat, Rock n Roll, Country, Latin, Bossa Nova, Reggae, Big Band, Slow Rock, March/Polka, Waltz
Memory -
21 Preset synth sounds. 12 Drum kit rhythm patterns.