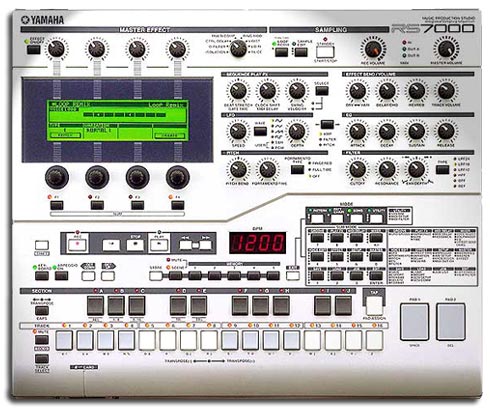 The RS7000 is a major groove production workstation! It's sort of like Akai's MPC-series, combining sampling and sequencing, but with an added internal synth engine. The RS7000 is particularly suited for dance, techno, Hip Hop, R&B, and ambient genres.
The sampler section consists of a 4MB (expandable to 64MB) sampler (5kHz to 44.1kHz or 32kHz to 48kHz via digital option board). You can use it to sample external sounds, re-sample the RS7000's sounds itself, or load samples from a variety of common formats! Auto-beat slicing lets you easily sample any loops or sounds and sync them to your sequence tempo! All the professional sampling and editing features you'd expect are here, and more!
The tone generator offers 62-voice polyphonic AWM2 synthesis, with over 1,000 synth sounds and 63 drum kit sounds (all via ROM). Here you'll find the resonant filters (6 types), advanced LFO modulation, BPM-synchronized LFO waveforms, and more! Edits made to the internal sounds, as well as to any samples are all stored within your sequence patterns.
The Sequencer is the real meat of the RS7000, where you make music out of the sounds it's got and that you've put into it! It offers pattern-based recording with 16 tracks each, and a 200,000 note-per-song capacity. Linear sequencer sequencing, like you would do using a software sequencer like Cubase, is also supported by the RS7000. Pattern-based sequences can be converted to the linear format as well. Realtime, grid and step recording methods are also available. Linking patterns into songs can be done in real time and meticulously tweaked. Total MIDI control, real-time hands on control, 18 assignable knobs and two pads, a Master effect section (with a multi-band compressor, slicer, isolater, other DJ-style master effects), and more make the RS7000 the most professional quality groove/loop/dance machine out there! It has been used by Hardfloor.
Demos & Media
Audio Clip 1
Drum & Vocal W/ Filter & Delay, Big Beat Pattern, Progressive House W/ Compressor Master Effect, House Track & D'n'B Filters And Bassline Tweaked Through Pitch Change. From Future Music CD issue 113.
Specifications
Polyphony -
64 voices in SEQUENCER, 62 voices in TONE GENERATOR, 256 voices in SAMPLER
Sequencer -
64-voice, 200,000 note capacity per song, 1-300bpm, 480 ppqn, 16 Sequencer tracks, 16 Phrase tracks, 256 user phrases per style, 1024 user patterns (64 styles x 16 sections), 20 songs. Compatibility: RS7000 format (load & save), RM1x format (load), SMF format 0 (load & save), format 1 (load). Arpeggiator: Up, Down, Alternate1/2, Random), Sort, Hold, Octave range.
Tone Generator -
AWM2, 16-part, 62-voice, 1054 synth voices, 63 drum-kit sounds
Sampler -
256 sample voices (Pitch / Kit), 5.5 to 48kHz sampling, 4MB sample memory expandable to 64MB via 2 72-pin SIMMS; Export RS7000 format, WAV (to HD, MO, ZIP, etc., SmartMediaTM), Import RS7000 format, WAV, AIFF, Yamaha A3000/4000/5000, Yamaha SU700, AKAI S1000/3000 (from HD, MO, ZIP, etc., CD-ROM, SmartMedia)
Filter -
6 types (18 with OS 1.2 or later) including 24dB / 18dB /12dB Low-pass, Hi-pass,Band-pass, Band eliminate, and more
Effects -
4 blocks: Reverb (11 types), Delay/Chorus (22 types), Variation (92 types), Master (8 types), 6 EQ types
Memory -
4MB, expandable up to 64MB
Control -
MIDI IN/OUT (x2) (16-part)