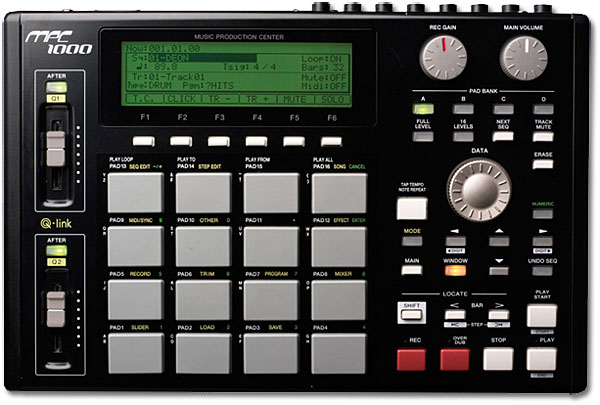 The MPC1000 is the latest in a long line of sampling drum machines and sequencers from Akai. It has many of the features of the MPC2000 but adds six outputs as standard, built-in FX and the ability to upgrade the memory from 16MB to 128MB, four times that of the MPC2000. It is also a lot smaller so you can just pop it in your bag and head off to a gig. Another great thing about the MPC1000 is that it stores its data in the form of WAV file samples and MIDI file sequences on Standard Compact Flash Cards (up to 2GB), and samples and sequences can easily be dropped onto the card or backed up to Mac or PC via the USB port on the back of the MPC1000.
Cheaping out a little on some of the build quality - but not the sound quality - Akai have made the MPC more affordable. The MPC1000 combines a 64-Track MIDI Sequencer and a 32-voice Stereo Digital Sampler, with 16 velocity and pressure sensitive rubber pads. It's got built-in multi-effects, filters and can hold up to 99 Sequences and 20 Songs. There are two nifty Q-Link sliders for real-time performance control. There's 4-way sample layering and velocity switching per pad, built-in analog and digital I/Os, internal sounds in flash and it can resample its own output.
Cheaper, but not cheap - the MPC1000 now makes this do-it-all staple of Hip Hop, R&B, Rap and Techno easier to get your hands on!
Demos & Media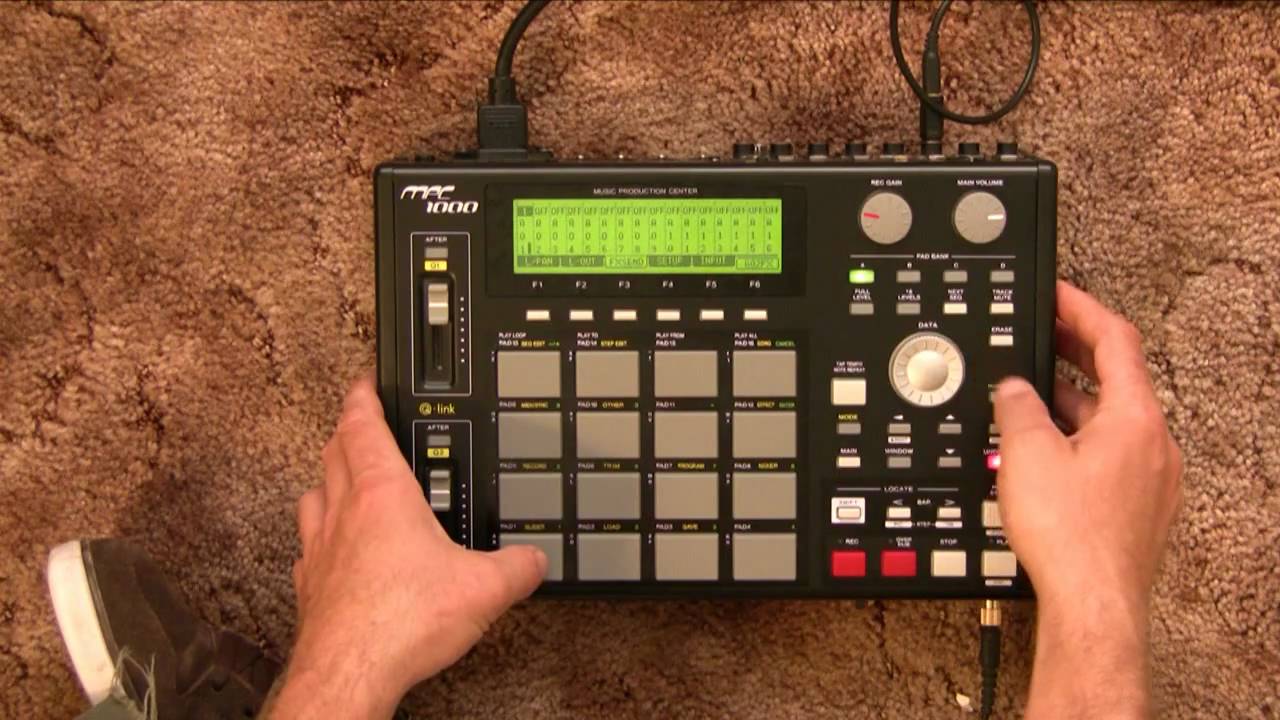 MPC 1000 Chopping samples and beats 101 (tutorial)
Specifications
Sampler -
44.1 kHz sample rate; 16-bit linear WAV; 16MB standard (136 sec mono), upgradable to 128MB (24m28sec mono) with EXM128 option.
Filter -
2 x 2-pole filters per voice (Low pass, band pass, high pass)
Effects -
2 general effects: Chorus, Flanger, 4-band EQ, Bit-Grunger, Compressor, Phaser, Tremolo, Auto Pan, Reverb. One Master effect: 4 band EQ, Compressor
Keyboard -
16 velocity and pressure sensitive pads
Sequencer -
64 tracks per sequence, 99 Sequences, 100,000 note capacity, 20 songs, 250 steps per song, 96 ppqn resolution, 32 Midi channels, Supports both linear and pattern-style (looped) recording, Step Edit mode, MIDI Clock Sync: Master/Slave.
Control -
MIDI (32 channels): 2 x MIDI In and 2 x MIDI Out; USB: Device connector x 1