The NanoBass is a tiny total Bass module for instant access to just about every Bass sound you can think of! This 1/3-rack sized module (5.5 inches wide) has 256 preset Bass sounds. There are 16 categories, each with 16 different programs in that category. Categories include: Acoustic Bass, Fretless Bass, 3 Electric Bass and 3 Synth Bass types, Funk, Acid, House, Rap, Industrial, Layered, Drone, and Effected Basses. None of the sounds are programmable, but with 64 voice polyphony and 16 MIDI channels, the NanoBass is designed to give you hands-on Bass for your MIDI music production system, live or in the studio.
Despite it's small size and low price, it's got high-quality 16-bit 48kHz linear samples based on the popular QuadraSynth synth engine for supreme-quality sonic performance with no voice robbing. Most of it's Bass sounds rock, many with exciting resonant filter sweeps and other cool modulation sounds built into the samples. The sounds cover every musical style. Each program also features built-in Alesis effects that can be controlled from the Effect knob.
Demos & Media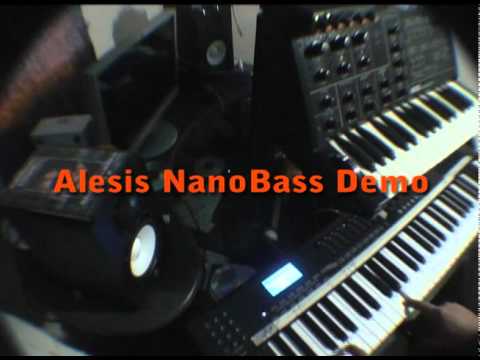 Specifications
Oscillators -
16-bit 48kHz linear sample ROM
VCA -
3 Envelope Generators
Memory -
4 MB, 256 Presets
Control -
MIDI IN/OUT (16-parts)
Resources
Images from Alesis
Thanks to Tim Palander for providing information.