The QuadraSynth was introduced in 1993 by Alesis, and it was their first major synthesizer. The S4 is the rack-mount version of the QuadraSynth. It's a 64-voice digital synthesizer with a whopping 16 MB of sample ROM, and was the first synth to offer the ADAT Optical Digital interface. It also featured the same multi-effects processor as the QuadraVerb 2, drum kits based on the D4 drum module, 4 assignable control knobs, one PCMCIA card slot, 48kHz clock input, and 4 audio outputs.
The S4 is undoubtedly a powerful and flexible synthesizer capable of creating rich sounds - both acoustic and electronic. It uses digital additive/subtractive sample playback synthesis to create high quality stereo grand pianos, organs, strings, drums/percussion, brass, woodwinds, new and classic synth textures, and more.
Released in 1995/1996 came the new and improved S4 Plus version (pictured). The S4 Plus rack module came with only 20MB ROM, losing the coveted 8MB stereo Grand Piano sample found in the QuadraSynths in favor of 4MB of General MIDI pianos. For an all around versatile modern synthesizer module that isn't focused just on dance or trance, be sure to consider the S4 or S4 Plus.
Demos & Media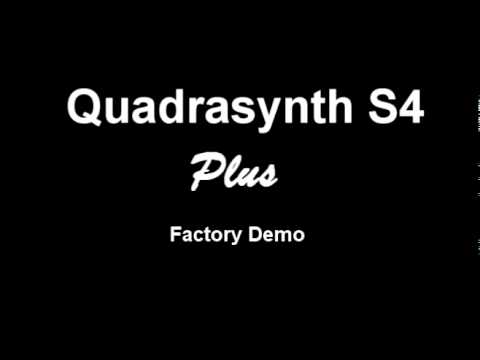 Specifications
Oscillators -
48kHz Linear samples
S4: 16MB, expandable to 24MB using PCMCIA ROM and RAM cards
S4 Plus: 20MB, expandable to 28MB using PCMCIA ROM and RAM cards
Effects -
4 On-board effects, based on the Alesis QuadraVerb 2 FX processor
Memory -
S4: 128 preset 128 user programs, 100 preset, 100 user mixes
S4 Plus: 512 preset 128 user programs, 400 preset, 100 user mixes
Control -
MIDI IN/OUT/THRU (16-channels)
Date Produced -
1993 (S4)
1995 (S4 Plus)