The Casio FZ-1 is an impressive sampler/synthesizer keyboard from 1987. Its offerings at the time were very professional features. In an 8-voice polyphonic full 61-note keyboard synthesizer you get a 16-bit digital sampler with variable 9kHz to 36kHz sampling rates. 1MB of memory expandable to 2MB could provide a maximum time of almost 2 minutes sample time at 9kHz. Up to 64 samples can be held in memory and placed across the keyboard. Graphic editing on the big LCD screen provides intuitive and easier editing of your samples with tuning, truncating, looping and much more. It also has eight outputs and analog-like 8-stage filters (DCF) and envelopes (DCA).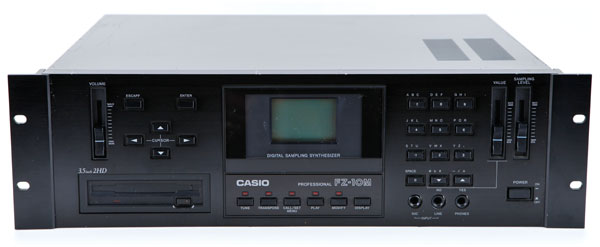 FZ-10M
Surprisingly the FZ-1 also has a built-in synthesizer section. It uses digital synthesis employing both harmonic additive synthesis and waveform drawing. Basic waveforms available include sawtooth, square, pulse, double sine, saw/pulse, random waves and 48 harmonics. The FZ-10M (pictured above) is the rack-module version of the FZ-1 with 2MB internal memory and XLR inputs and outputs. Dated by today's standards, the FZ-1 is a neat piece of Casio history to own but could never replace your current sampler. With the look and features you'd expect from a vintage pro-sampler, this Casio has been used by Underworld, Kronos Quartet, Dee Lite, 2 Live Crew, and Kitaro.

The Hohner HS-1 is a German version of the Casio FZ-1. Only its case is light in color. This version has been used by Coldcut.
Demos & Media
Audio Clip 1
Here's a demo from the Honer HS-1 version. It has a resonant bass-line with filter sweeps, electro-drums and a few lead synth blips and bleeps.
Specifications
Sampler -
16-bit, 9kHz - 36kHz variable sample rate; Sample-time: 58 seconds max. at 9kHz, 14.5 seconds at 36kHz
Filter -
DCF 8-stage Filter
Keyboard -
61 keys with velocity and aftertouch
Memory -
1MB internal, 3.5"HD