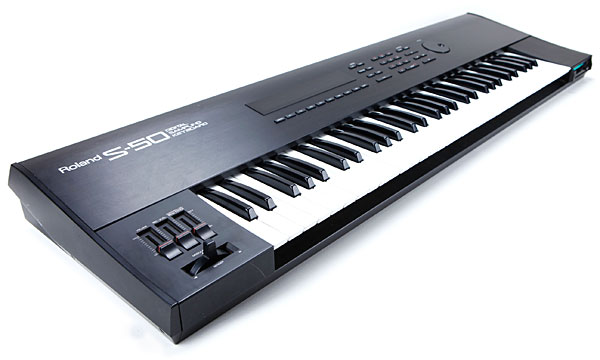 Roland S-50
Among Roland's line of early keyboard samplers—the S-series—the S-50 can be thought of as the professional model. Still, by today's standards it would be considered limited and lo-fi. However for its time it was a powerful instrument which can still prove useful for many music applications today. It offered a full 61 note keyboard with velocity and aftertouch sensitivity and 16 voice polyphony which was great for live and studio performances. It's easy to use, has an external CRT monitor support for large graphic editing and disk-loadable samples and operating systems (version 2.0 or later is best).
Though editing is a breeze, it is quite sophisticated and can be much easier when using an external CRT monitor and the DT-100 Digitizer Tablet. You get to draw waveforms, auto-loop, tune, edit the multi-stage envelopes, edit digital filters and quickly adjust loops and samples. There is also a SYS-503 sequencer package software which offers basic drum machine type sequencing. Of course most edit parameters, excluding the sequencer, can be modified and tweaked via the Alpha-Juno type alpha-dial.
It's too bad that such a nice looking and well designed synthesizer is home to a tiny 512k-WORD sample memory (756k-byte sample memory). And with 15 to 30kHz variable sampling rates at a 12-bit resolution, the sound quality is almost nice. Roland has a vast sample library of sounds ready to be loaded via the built in 3.5 inch disk drive. Samples of your own (up to 28.8 seconds at 15kHz) can also be saved to disk. The S-50 version 1.0 allowed for 16 samples or "tones". Version 2.0 expanded to 32 samples or "tones". Sampling modes include manual, auto and previous.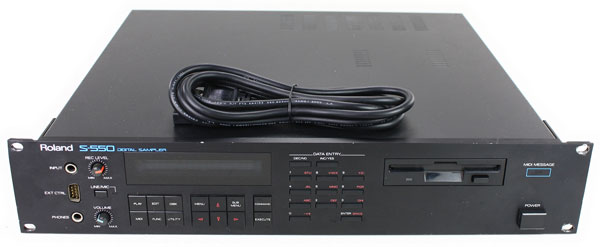 Roland S-550
A rack-mounted version of the S-50 came in the form of the S-550, which also had double the sample memory (1.5 Mb) and more importantly, real-time filters (called time-variant filters) derived from LAS-type synthesizers like the D-50. A slimmed down, consumer friendly version of the S-550 was also available as the S-330. Both rack-mounts support the DT-100 Digitizer Tablet and an external CRT monitor. The S-50/S-550 has been used by Vangelis, Duran Duran and Jimi Tenor.
Demos & Media
My Roland S-550 sampler Song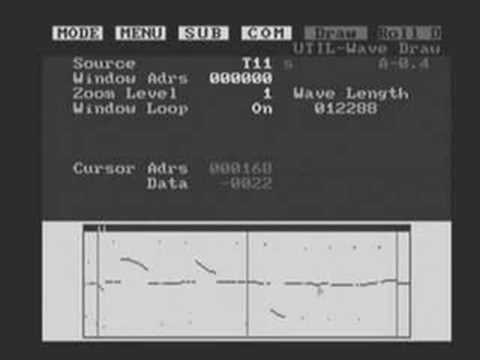 Roland S-330 used as an advanced virtual analog synth
Specifications
Sampler -
12-bit, 30kHz, variable
Multitimbral -
4-parts, 4 outputs
Memory -
756kb, 28.8 seconds total sample time
Filter -
Hi-pass, Low-pass digital filters
Arpeg/Seq -
SYS503 sequencing software
Keyboard -
61 keys with velocity and aftertouch
Date Produced -
1986 - 1987