Well, people call it the poor man's sampler. It is the cheapest sampler in the world. Followed by the SK-5, the second cheapest in the world. It's a polyphonic synthesizer (just four voices) with very cheap sounds and it can store one sample in its memory. The sampling is 8-bit PCM, 9.38kHz, giving about 1.4 seconds. It's so gritty... Samples can only be recorded through the awful mini-mic built-in to the upper-right corner or a 3.5mm line-input plug on the backside of the synth. Alas, its memory clears when turned off.
Obviously it's designed as a cheap toy for consumers. This is the sort of sampler-toy you end up belching into with your friends and play burp-songs for a laugh! There are 11 built-in accompaniment-style drum patterns (disco, rock, samba, etc.) which are all embarrassingly fun and totally unusable. The keyboard uses mini plastic keys. It lacks MIDI, lacks effects, edit-ability, memory, and filtering. However there are 13 envelope shapes that can affect your sample or synth sounds somewhat. There is also portamento, vibrato, and chord accompaniment with the chord selector system.

Rare pink model
If you gotta make some lo-fi cheese samples then you might want to try the SK-1, after all it is very cheap! Of course, as cheap as they come and with the built-in sampling, the SK-1 is a great candidate for circuit-bending! It is used by Fatboy Slim, Beck, Autechre, Portishead, Bloodhound Gang, Nine Inch Nails, Incubus and Blur.
Demos & Media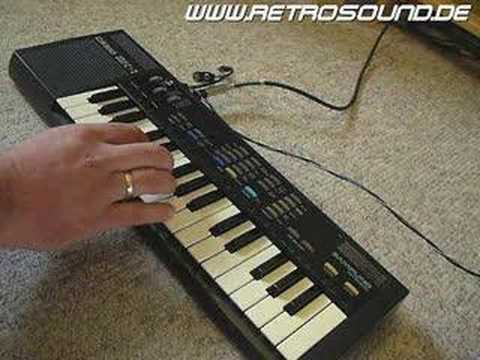 CASIO SK-1-the real sound of the SK-1
Specifications
Oscillators -
additive synth section: 5 PCM tones: piano, brass ensemble, trumpet, synth drums, human voice; 3 synth tones: flute, pipe organ, jazz organ
Sampler -
Holds 1 Sample: 8-bit PCM, 9.38kHz, approx. 1.4 seconds, loop/ envelope select functions
VCA -
None; 13 Envelope shapes
Drums -
11 drum patterns: disco, rock, pops, march, samba, bossa nova, rhumba, 4 beat, swing, slow rock, waltz
Sequencer -
100 steps of polyphonic programming or 99 step chord sequence with and 198 steps each of two solo voices.
Memory -
Volatile, lost when powered off
Resources
Images by Vintage Synth Explorer and Perfect Circuit Audio.
Additional information provided by Chris and Jeph.