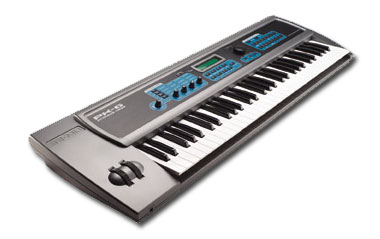 The new PK-6 Proteus Keys is a sleek keyboard with E-mu's Proteus 2000 sounds and features. The PK-6 comes with the Proteus's 32 MB "Composer" soundset, and additional Proteus expansion ROM soundsets can be added up to 128 MB. The sounds cover the whole spectrum of synthesizer type sounds, from real instruments to bizarre sounds and effects. The keyboard is a full 61-keys long with 16 real-time controllers. There's also 16 on-board syncable/programmable arpeggiators and the Proteus 2000's Super BEATS interactive Groove Mode. With 16 mute/enable buttons this keyboard is set for live and on the fly performances with plenty of real-time controls! Unlike the Proteus 2000 which is 128 voice polyphonic, the PK-6 has just 64 voices and only 4 audio outputs as opposed to 6 in the rack modules. The PK-6 also features multi-mode resonant filters, 24-bit DACs, and an affordable price tag!
The PK-6 is part of a new line of performance keyboards launched by E-mu that repackage their current line-up of top notch sound modules targeted at specific genres. For all purpose synthesizer, the PK-6 Proteus Keys. For HipHop and R&B, the MK-6 Mo'Phatt Keys. For techno trance and dance, the XK-6 Xtreme Keys. And Halo from Ensoniq, which is another all purpose synthesizer.
Every one of these ships with one 32 MB sound-set, but are expandable up to 128 MB via three additional slots for 32 MB expansion cards. These cards include (ranging from $249 to $395):
9061: Siedlaczek Orchestra 32 MB ROM.
9063: Beat Garden 32 MB ROM - standard in Orbit 3.
9082: Protozoa 16 MB ROM - standard in Proteus 1, 2, 3.
9083: Definitive B-3 32 MB ROM - standard in B-3.
9084: Techno Synth Construction Yard 32 MB ROM - standard in Orbit 3.
9085: Orchestral Session Vol. 1 32 MB ROM - standard in Virtuoso 2000.
9086: Orchestral Session Vol. 2 32 MB ROM - standard in Virtuoso 2000.
9087: World Expedition 32 MB ROM - standard in Planet Earth.
9088: Sounds of the ZR featuring the Perfect Piano 32 MB ROM - standard in Ensoniq Halo.
9089: X-Lead 32 MB ROM - standard in Xtreme Lead-1, XL-7 and XK-6.
With these expansion options, you could buy a PK-6, then add the sounds of the Orbit 3, XK-6, and the MP-7... or any other combinations you may want. If you like desktop synths, you can start with an MP-7 or XL-7, and then add these same expansion card options to add Proteus, Orchestral, or the new Halo sounds to them. E-mu/Ensoniq's interchangeable sound cards and a variety of keyboard/sound-module options means that there's a model out there for everybody now.
Demos & Media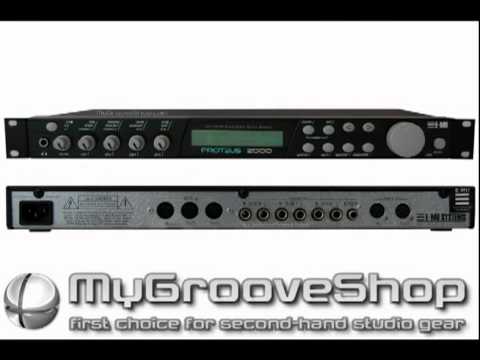 EMU Proteus 2000 Demo Song
Specifications
Oscillators -
32 MB "Composer" Sound Set ROM (expandable to 128 MB), four 24-bit DACs
Filter -
50 types of 6th- and 12th-order Z-plane filters
Effects -
24-bit dual stereo-effects processor with 29 reverbs types, 15 delay types, 8 chorus types, 7 flange types, 5 distortion types
Keyboard -
61 keys (velocity and aftertouch)
Memory -
1152 Presets (640 ROM, 512 RAM)