The Juno-Di is an updated version of the Juno-D that brings it more up to par with the Juno-G and Juno-Stage models. Roland has doubled the polyphony from 64 to 128 voices and packed in over 1,000 sounds thanks to twice as much waveform ROM (64 MB). They even gave it the same paint-job as the other Juno models. All this was done while retaining its original role as a good, cheap, portable entry-level synthesizer. Think of it as a Juno-G without the sequencer / audio-recording / workstation features.
The Juno-Di's 1,000+ sounds should be enough, right out of the box, to get any musician—entry-level or otherwise—going. They include grand and electric pianos, strings, guitars, brass, percussion, exotic instruments, modern synth sounds, and much more, including GM2-compatible sounds. Patches are organized into categories such as Piano, Guitar/Bass, Orchestra, Synth, etc. and are selected via dedicated category buttons located below the LCD display. The large scroll dial lets you quickly browse through all the patches within each instrument category.
The front panel is designed to be as simple and stream-lined as possible, offering only what is needed to quickly access, set up and play with its sounds. Five dedicated "Sound Modify" knobs provide access to basic parameters to tweak, including Envelope Attack, Release, Filter Cutoff, Resonance and Reverb amount. For all other sound editing you might want to do, a Mac/PC editor is included. From the computer you will have much more advanced access to its four tone generators, the TVF digital resonant filters, two LFOs (assignable to the pitch, filter, panning and level simultaneously), multi-effects, and many more Patch and Performance operations and parameters.

What really sets the Juno-Di apart from its bigger siblings is its lack of workstation features, most notably, the omitted sequencer and audio recorder. It does have an arpeggiator with lots of preset patterns, but you can't create your own, and it has some preset drum rhythm patterns, but you can't create your own. There's also phrase sampling and chord memory.
The Juno-Di is really a giant sound-bank of Roland's latest sounds with a 61-note velocity keyboard attached. Although it may not be a studio workstation, its portability features such as its light weight and ability to run on batteries make it ideal for traveling musicians. Additional features like Roland's D-Beam controller and a built-in vocoder with a mic input (and its own dedicated reverb) make it ideal for live performances. In addition, the "Song Player" can play SMF, AIFF, WAV, and MP3 files from a USB stick, that you can then jam along with like a real one-person band.
The Juno-Di is nothing like the original analog Juno poly-synths, except maybe for the look of the paint job. But it does offer Roland's latest technologies in their most portable and entry-level package. It really is a good general purpose keyboard for gigging but can also be good for advanced players looking for a cheap, quick and easy to use synth for lots of bread-and-butter sounds.
Demos & Media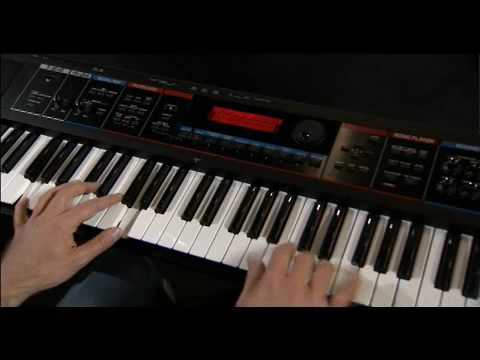 Roland JUNO-Di introduction (part 1)
Roland JUNO-Di introduction (part 2)
Specifications
Oscillators -
64 MB Waveform Memory (839 tones)
Envelope -
4 TVA amps, ADSR envelopes
Effects -
79 Multi-effects plus 3 Chorus types and 5 Reverb types
Arpeggiator -
128 patterns, 24 rhythm patterns, 17 Chord Memory patterns.
Keyboard -
61 keys w/ velocity
Memory -
1082 Preset + 256 (GM2) + 128 User Patches, 20 Preset + 9 (GM2) + 8 User Rhythm Sets, 64 Preset + 64 User Performances. USB Memory Stick storage capability.
Control -
MIDI In/Out, USB, Microphone input, External mini-jack input
Controls -
D-Beam Controller, Pitch Bend/Modulation Lever, Sound Modify Knob x 5