Electronic Music Studios (EMS) VCS3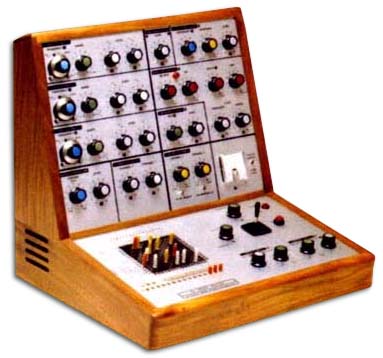 The VCS3 (nicknamed the Putney) is an analog monosynth housed in a distinctive angled wooden case, a truly classic synth. EMS (Electronic Music Studios) was created in England back in 1969. The VCS3 was one of their first synths and it is still a great, unique, funky little unit! Pictured above is the Mark I model. Pictured is another unit with the small wood-cased DK2 voltage-control keyboard required to play the VCS3.
It has three oscillators, and a unique matrix-based patch system. Instead of patch wires, the VCS3 uses a patchbay grid in which the synth components are laid out, and signal routing is accomplished by placing small pins into the appropriate slots. The VCS3 was, in actuality, a modular type synthesizer reduced down to an extremely portable size.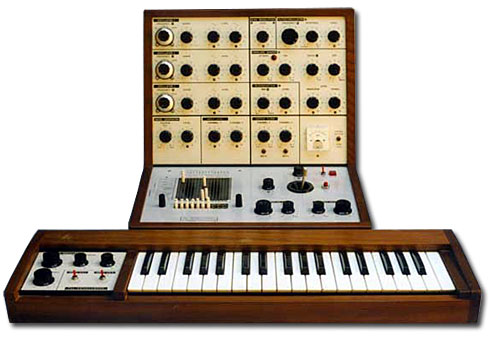 It generates familiar sci-fi sounds (Dr. Who) and other truly analog sounds. Unfortunately, the oscillators tend to drift out of tune. There's a Noise Generator, 2 Input Amplifiers, 1 Ring Modulator, 1 Voltage Controlled Low Pass Filter (VCF), 1 Trapezoid Envelope Generator, Joy-Stick Controller, Voltage Controlled Spring Reverb unit and 2 Stereo Output Amplifiers.
Additonally, the VCS3 was also sold in a plastic breif-case and called the Synthi A. The major Synthi 100 system was based on three VCS3's strung together. Some ultra-rare commercially unavailable synths EMS made include the VCS4 in 1969 which was basically 2 VCS3's plus a keyboard. And the Synthi Keyboard 1 of 1970 was just a VCS3 with a mini 29-note keyboard.
Many of these EMS synth's have been used by Brian Eno, Tangerine Dream, Pink Floyd, Stereolab, Yes, Aphex Twin, Autechre, Jean-Michel Jarre, Astral Projection, Klaus Schulze, Depeche Mode, Vince Clarke, Add N to (X), The Who, Todd Rundgren, Recoil, Freddy Fresh, John Paul Jones and many more.
Demos & Media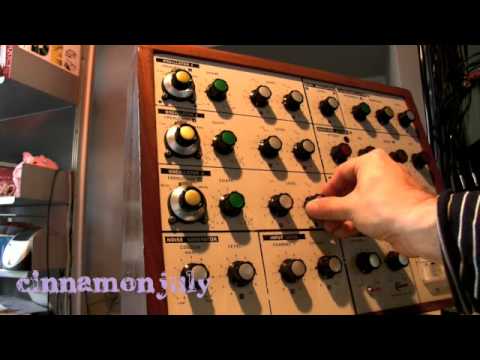 Audio Clip 1
Hear the VCS3 in action. These are some weird electro-synth sounds from it.
Specifications
Oscillators -
3 VCO's - Subtractive / FM analog synthesis
VCA -
Trapezoid waveshape Envelope generator
Keyboard -
No keyboard, needs an external CV/gate keyboard controller such as the EMS DK2.
Date Produced -
1969 - 94
Resources
Images from The Terrey Collection
Additional information provided by Henry Warwick, Charles Mitchell, and DAC Crowell.