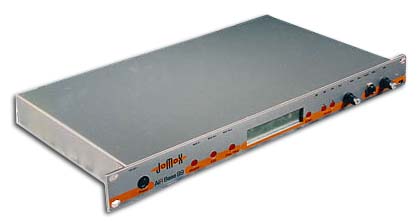 The AirBase 99 is based on the XBase 09, but is much better. It has many of the same great TR-909 sounds and much more but comes in a 1-unit rack-mount MIDI module rather than a table-top drum sequencer like the latter. Its front panel is extremely bare, with just 2 knobs and a few buttons and LEDs. The AirBase is designed for use as a Drum Tone Module with your sequencer. Programming is easiest through MIDI control of the parameters. Otherwise, prepare to page through data screens on the small 2-line LCD display.
The AirBase features the same sounds and parameters as the XBase 09 and adds increased polyphony (9 voices) and Tom Toms. The AirBase emulates 808, 909 and CR-78 style sounds with excellent quality. Kick, Snare and Toms are analog and feature various tune and envelope controls. Hats, cymbals, clap and rimshot are samples but can still be tuned and reversed! For emulated 808 and 909 drum machine sounds, the Airbase 99 is great! It costs half as much as getting all of the real drum machines.
The AirBase 99 does not feature lots of hands-on knobs like the Novation Drum Station. But some cool features include both high and low pass resonant filters and a band pass filter to apply to the hi-hats! There's more parameters to edit per each Drum Tone than the Drum Station or any of the original beat-boxes and there is almost 38 times more patch memory in the Airbase with 1,024 user and 500 preset drum kit settings! Two global LFOs can modulate the pitch of any sounds and sync to MIDI. Of course there are individual outputs for each drum sound as well as a stereo out.
Demos & Media
Audio Clip 1
A series of pumpin' AirBase99 drum sequences from Future Music's CD, Issue 88.
Specifications
Drum Tones -
808 and 909 Kicks, snare, clap, rimshot, roms, cymbals, hihats, ride, noise
Filter -
Resonant High and Low pass filters for Hi-Hats
Memory -
1,024 User, 500 Preset
Resources
Images from Synthesizer Picture Gallery (site gone).