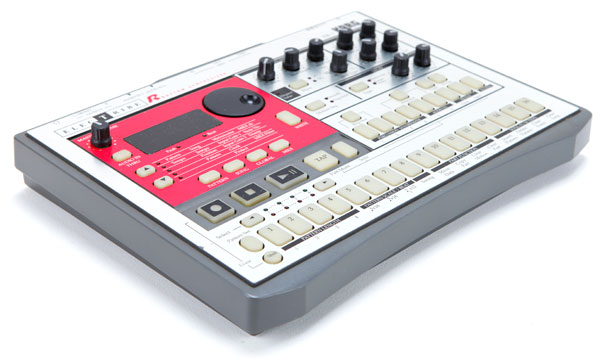 "Korg has created the ultimate analog beat machine. Simply by tweaking the knobs on the ELECTRIBE R, you have unlimited control over all the elements that make up the sounds - like pitch, modulation depth, waveform shape and much more. Drop these sounds into the built-in sequencer and you've got unique rhythms with your own creative signature. And with the ELECTRIBE R, you can hear every change you make as it happens, allowing you to mold the groove on the fly."
"The built-in step sequencer's 16 pad keys make it easy for you to produce rhythms from the sounds you create. Each pad keys lights up so you can easily see what rhythm a part is programmed to play. Plus, you can play in beats in real-time using the 12 trigger pads. Four of the pads are assignable to any analog modeling sound you come up with, two are reserved for controlling sounds accessed through the audio input, and the other four permanently control the indispensable PCM sounds. So you can tailor your own custom "kits" to fit each musical situation."
"To add even more life to your patterns you can record the real-time movement of any of the ELECTRIBE R's oscillator, amp or effect parameters as a Motion Sequence. This lets you change your sounds as your groove progresses in a way that more traditional drum machines just can't match! Plus, every sound or rhythm you create can be stored as a pattern that includes your knob movements. And you can save up to 256 1 to 4-bar patterns in internal memory."
"The ELECTRIBE R can also be controlled from an external sequencer, keyboard, or sampler to function as an analog sound rhythm tone generator, or set up to control or be controlled by other hardware or computer-based sequencers." - Korg-USA The ElecTribes are used by Orbital, Cirrus, Dan Hekate, Saulaterre, The Prodigy, YB70, 69db, MDFMK, Crystal Distortion, the Crystal Method, Massive Attack, and the Chemical Brothers.
Demos & Media
Audio Clip 1
Here is a nice set of patterns & sequences that show how awesome the ElecTribe R can be!
Audio Clip 2
This demo adds some analog synths via the ElecTribe-A.
Specifications
Polyphony -
10 voices (parts)
Multitimbral -
10 Parts (4 synthesizer parts, 2 audio in parts, 2 hi-hat parts, 1 crash cymbal part, 1 hand clap part)
Memory -
256 Patterns, 16 songs
Patterns -
64 steps maximum per part, motion sequence, 1 parameter per part, 64 events
Songs -
256 patterns maximum per song, event recording 35,700 events maximum
Keyboard -
None (16 touch pads)
Effects -
Delay (normal, motion sequence, tempo delay)