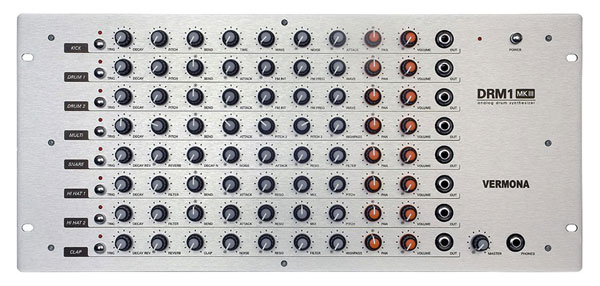 Attention analog freaks!! The Vermona DRM-1 is a true analog drum synthesizer. You can synthesize up to eight drum sounds and they can be triggered by MIDI and by an optional set of 10 Trigger Inputs. Each sound has about 9 knobs for shaping the sound. And since it really is analog (and not some virtual emulation) the sounds are more unique and unpredictable than any other electronic drum synths currently available.
With eight drum sounds and nine knobs per sound, the face of the DRM-1 is covered with over 72 knobs! The drum synthesis theory is based around five predetermined percussive sound types. There are three DRUM channels for creating bass drums, toms and numerous effect sounds. One MULTI channel for creating typical analog Cowbell sounds and effect sounds. One SNARE channel, which can generate numerous analog snare drums as well as wacky sonar pings. Two HI HAT channels (open or closed), and one analog CLAP channel. There are seven real-time sound controls plus panning and volume on each channel.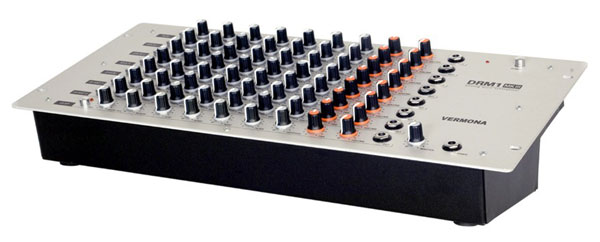 It has a stereo output but each channel also has its own audio output which doubles as an insert patch for externally processing each channel before reaching its main stereo mix outputs. A big unfortunate over-sight is the lack of program patch memory. With all those knobs it sure would be nice for some sort of instant recall of your favorite drum sound settings. The front panel tilts so the DRM-1 is at home rack-mounted or as a tabletop module. Anyone interested in creating their own unique ANALOG drum sounds should check out the DRM-1! It makes a great companion to the Vermona Perfourmer Analog Synthesizer module. The original DRM-1 is gold and was released by Touched By Sound while the DRM-1 mkII from Vermona was blue or silver and the DRM-1 mkIII (pictured) has colored knobs.
Demos & Media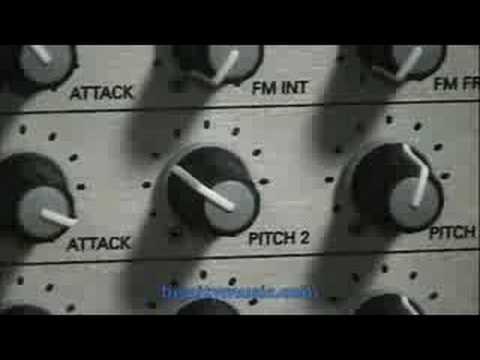 Vermona DRM-1 Mk III Analog Drum Synth
Specifications
Oscillators -
8 (One per channel)
Filter -
Available on some sounds/channels
VCA -
Available on some sounds/channels
Control -
MIDI IN/THRU (Optional 10 Standard Trigger Inputs for use with other analog gear)