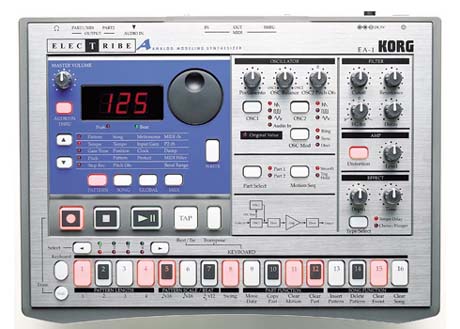 "When you're laying down your next big groove, you need the phattest, most aggressive analog synth sounds possible. You need to call on the 'Tribe. Korg's new ELECTRIBE series uses the ultimate in analog modeling to give you the richest, most versatile analog-style sounds out there. And with unlimited real-time control of every sound parameter, you know your sound will be just that -- yours."
"The ELECTRIBE A is a compact analog modeling synth box that lets you create analog synthesizer, bass, and sound effect sounds simply - just tweak the knob that controls each element of the sound as on an analog synthesizer. Operation is easy and intuitive because the results of moving the knobs are reflected immediately in the sound. The sounds you create on this compact synthesizer can be input to the internal sequencer to create phrases."
"Volume dynamics and filter frequencies of the sounds or patterns you create can be modified using the knobs. You can record these changes into the sequencer precisely as you make them. Use this capability to create continuous shifts in the sounds or to gradually apply an effect, creating phrases that include tonal changes. Phrases you create can be stored as a pattern that includes a chosen knob movement, and up to 256 1 to 4-bar patterns can be stored in internal memory."
"The ELECTRIBE A can also be controlled from an external sequencer, keyboard, or sampler to function as an analog sound tone generator, or set up to control or be controlled by other hardware or computer-based sequencers." - Korg-USA The ElecTribes are used by Orbital, Crystal Distortion and Cirrus.
Demos & Media
Audio Clip 1
Here is a nice set of patterns & sequences that show how awesome the ElecTribe A can be!
Audio Clip 2
This demo adds some percussion via the ElecTribe-R.
Specifications
Waveforms -
Sawtooth, square, tri, external audio-in
Memory -
256 patterns, 16 songs
Filter -
1 VCF resonant low pass with external inputs
Effects -
Distortion, Tempo delay, chorus/flanger
Keyboard -
None (16 touch pads)
Arpeg/Seq -
Pattern: 64 steps, motion sequence, 1 parameter per part, 64 events; Song: 256 patterns per song, 65,500 events