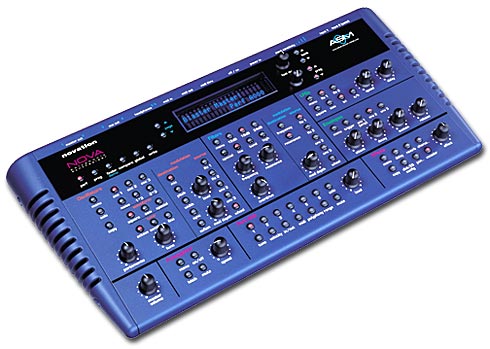 Novation has basically re-packaged the SuperNova into a desktop performance module and dubbed it the Nova. It uses analog Sound Modeling (ASM) to create stunningly clean but analog-like sounds. "3 completely independent oscillators, a variable noise source and 2 ring modulators per voice. This combined with the Nova's 12 voice polyphony means that there are 36 Oscillators, 24 Ring Modulators and 12 Noise sources available at once. All these waveforms can be combined in the Mixer section allowing the creation of very fat and complex timbres." There's also over 130 modulation routings. There are two inputs for filtering external sounds, a 40 band vocoder and 42 simultaneous effects including Distortion, Comb Filter, Chorus, Phaser, Flanger, Delay, Reverb, Panning, Tremolo and EQ.
As a performance module the Nova could not be anymore hands-on nor rhythmically programmable with 20 knobs and 90 switches! "The Arpeggiator is more like a Real Time Music Processor with 384 monophonic, polyphonic and user patterns available. Sounds can be layered in Performances allowing Arpeggiated and sustained sounds to be played at the same time." There are up to 6 arpeggiators! Of course everything about the Nova is MIDI controllable making the Nova an ideal super polyphonic synthesizer for professional musicians in the studio, on the road or in the bedroom!

Pictured above is the Nova II. It features roughly 21 knobs, 4 sliders, 128 switches and comes in 49 or 61 note keyboards! Of course it features some major improvements including doubled 24 voice polyphony (expandable to 36 and 48) and simply offers you an affordable alternative to the Supernova keyboard without compromising anything in terms of performance controls, features and sounds!
Update: With the release of OS version 4.1, the base polyphony was raised to 16 voices, Novation added the DoubleSaw waveform (with phasing, detuning, and unison), nine new special filter types, adjustable unison, and a knob pass-through option. The Nova OS 4.1 update applies only to the Nova desktop. The Nova II keyboard latest OS is v.2.0 which does not increase polyphony beyond 12 but does add 700 new voices and increases potential in the LFO, filters, arpeggiator and effects.
Demos & Media
Audio Clip 1
From the on-board demo sequence of the Nova, this short demo shows you what it can do.
Audio Clip 2
Various demo patches from the Nova.
Specifications
Polyphony -
12 voices (expandable to 24, 36 and 48)
Oscillators -
3 osc per voice (saw and variable pulse width) plus noise
LFO -
2 LFOs: saw, tri square sample/hold
Filter -
Resonant Low-pass, Hi-pass, band-pass; 12, 18 and 24 dB/Oct slopes and overdrive
Envelopes -
1 ADSR for the amp, 2 DADSRs
Effects -
Distortion, comb filtering, EQ, reverb, chorus, flange, phaser, delay, panning, 40-band vocoder
Keyboard -
Keyboard model: 49 or 61 notes
Memory -
256 programs, 128 performances