Access Virus TI Polar
The Virus TI Polar is a "roadster" version of the ground breaking Virus TI Desktop. It has virtually the same sound engine as the TI Desktop, but adds 37 keys to make it a compact yet powerful performance synthesizer. It also has a striking design (no doubt a descendant of the Virus Indigo), with a white-out front panel and a mix of aluminum and wood siding. The LEDs are white as well as the LCD display panel. Simply put, the Polar puts all the power of the Virus TI into a keyboard meant to be taken on the road.
Under the hood, there are three oscillators with one sub oscillator per voice which give it the ability to create throbbing and full basses as well as soft and beautiful pads and screaming leads. Within each of the main oscillators, there is a wide collection of waveforms including the classic Virus virtual analog oscillator models (saw, variable pulse, sine, triangle, and 62 spectral waves with several FM modes), the awesome HyperSaw model (a multi sawtooth oscillator with up to 9 stacked oscillators, along with 9 sub oscillators and a sync oscillator), a Wavetable oscillator model (with 100 multi-index wavetables), a Graintable oscillator model (for granular synthesis that can warp waveforms into new twisted forms), and Formant waveforms.
There are two multi-mode filters (HP, LP, BP, BS) as well as a saturation module for adding distortion or lo-fi effects. There is also an Analog Filter modeled after the Moog cascade filter with 6 to 24 dB/oct slope options and is capable of self-oscillation and can be overdriven.
The Virus TI Polar includes a wide array of modulation capabilities including a two dimensional modulation matrix with 6 sources and 3 destinations each (18 routings total). With this you can modulate almost anything in the Virus in real time. There are also three LFOs that can also be used as ramp generators and two very fast ADSTR envelope generators.
A complete effects section is also on hand, with 129 parallel effects. There is independent delay and reverb for each patch, multiple distortion/lo-fi algorithms, phaser, chorus/flanger, character control, ring modulator/shifter, 3-band EQ, and a global vocoder. There is also the popular Virus Atomizer, a unique audio slicer which can turn your Virus into a powerful realtime FX unit perfect for DJ applications.
The Virus TI Polar's "Total Integration" comes from its sophisticated OS and USB port which connect it straight into the following certified hosts: Apple Logic, Steinberg Cubase, Ableton Live, Avid Pro Tools, Cakewalk Sonar and ImageLine FL Studio. The VIRUSControl plug-in automatically detects and connects the Polar to your host program, where it will appear as a VST/AU soft-synth. The Polar can even be turned into a dedicated remote MIDI controller, mapping each of its 33 knobs to a MIDI CC messages.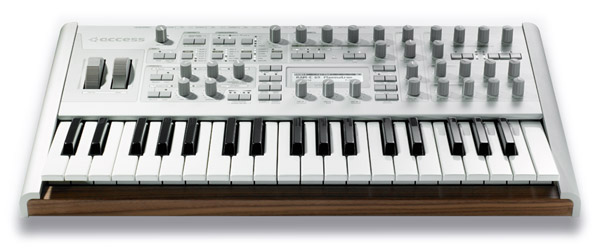 Access Virus TI2 Polar
In 2009 an upgraded second edition model, the TI2 Polar, was released with 25% faster DSP processing, increased polyphony (from 80 on the TI up to 110 voices on the TI2), more effects and a redesigned housing. And if white isn't your thing, there is a limited edition Dark Star model, which has a pure black paint job along with a trick red glowing/pulsing Access logo in the back.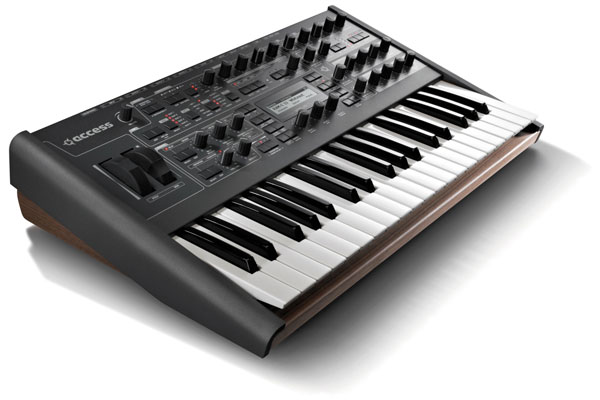 Access Virus TI2 Polar Dark Star
Equally at home in the studio, on the road, or in the DJ booth, the Virus TI is an amazing performance synthesizer. Continuously updated versions of the OS that can be downloaded and installed into the Virus TI series ensure that this hardware synth will always have the most sophisticated software under its hood. It has been used by Deadmau5, The Prodigy, Depeche Mode, and Alex S.
Demos & Media
Novamusik.com Access Virus TI Polar Darkstar Edition!
Specifications
Polyphony -
Between 25 to 110 voices, depending on the complexity of the patch
Oscillators -
3 oscillators with one sub oscillator per voice
Waveforms -
Traditional VA, Wavetable, Graintable, HyperSaw, and Formant
LFO -
3 LFOs with 68 waveforms
Filter -
2 multi-mode filters (lowpass, highpass, bandpass, bandstop) with an optional saturation module and an Analog Filter modeled after the Moog cascade filter with 6 to 24 dB/oct slopes
Envelope -
2 ADSTR envelopes
Effects -
129 parallel effects: delay, reverb, distortion/lo-fi algorithms, phaser, chorus/flanger, character control, ring modulator/shifter, EQ, vocoder
Arpeggiator -
32 steps with global control for swing/shuffle and note lengths
Keyboard -
37 keys with velocity and aftertouch
Memory -
1024 RAM and 3328 ROM sounds
Control -
MIDI In/Out/Thru and USB
Date Produced -
TI Polar - 2005
TI2 Polar 2009