Virus TI Desktop
Arguably the pinnacle of DSP-based digital synthesis at the moment. It could easily be written off as a Virus C with added supersaw, but the many improvements suggest revolution, not evolution!
The TI includes several oscillator sources from simple sine/tri/saw through to wavetables (63 to choose from, nicely varied; the 64th wavetable is actually the pure sine wave) and also granular and formant sources based on the wavetables. The supersaw mode is present and allows big, spreadable saws with a huge unison effect - you can dial in over 100 oscillators per note if your mix (and your monitors) can take it.
If you want it on a digital synth oscillator section, then this has it: 3 oscillators, multiple modes, FM (with several FM applications), oscillator sync, an additional subosc and a noise source. There'll be a bit of menu diving though - the TI may have more physical controls than any Virus before it, but options here outweigh controllers. Fortunately, the menus are logically laid out and fairly simple. The common parameters are on the front panel, and the most in-depth tweaking lies no more than four menu-pages under the hood.
There are dual filters with multiple modes from Lowpass, Hipass, Bandpass, Bandreject to more DSP-intensive emulations of analog 1- , 2- and 4-pole modes (the so-called Minimoog emulation). These filters are what really make the synth and impart a definite character to the Virus. Most would agree that the Virus sounds dark and ominous rather than the bright, crisp sounds of the Clavias and Korgs. They whine and screech when you crank up the resonance into the self-oscillating regions as well! Regardless of whether the filter emulations perfectly copy the originals, or any preconceptions regarding what is analog or digital, these filters are a modern classic and can be argued to have already made it onto even more vinyl acreage than the venerable Minimoog. The Virus really IS several genres of dance music; as much a signature sound as the saxophone to modern be-bop. To dismiss it as a dance floor-only synth would be criminal, however.
The Mod Matrix and LFO sections are comprehensive - 18 mod matrix slots, 3 LFO's (which can do double duty as simple third envelopes - although a 3rd envelope feature isn't expressly provided) which can do all the usual LFO tricks. The matrix can even modulate itself; perfect for sonic experiments, but it can be a test of memory (yours, not the synth's) remembering just what it is you're trying to modulate. Too many options may not be a valid complaint, but what this synth could really do with is a screen-based editor...
...And it's the computer integration which the TI does better than any other computer-age synth to date. There's a USB1 (not USB2, but fast enough for most tasks) interface which doubles as both a DSP audio interface for you computer and enables an onscreen librarian VST3/AU/RTAS plugin interface to appear in your software of choice. If you can do it on the synth, you can do it onscreen, except that some parameters (like arpeggiator settings) can only really be edited on the computer. On the subject of the arp, there's no step sequencer option, which is a shame because this synth really can nail those Berlin school drones and sequences.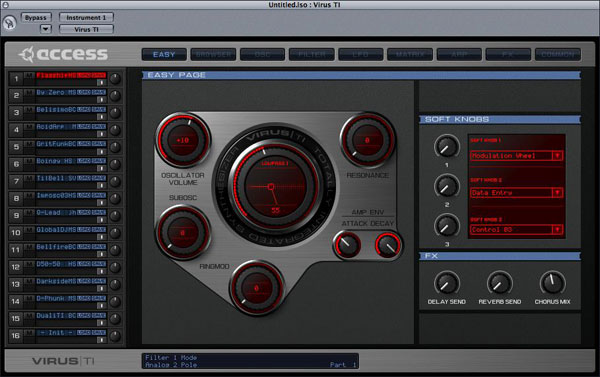 Virus TI software interface
The hardware is a metal-skinned, wooden-ended tank, with solid knobs that turn easily yet feel as though they're set in concrete. The desktop version lets you remove the wood, replace with rack ears, and tilt the I/O panel through 90 degrees so you don't lose a rack space above the unit - very clever. The keyed versions have the very best keybed available on a synthesizer today (synth-weight or semi-weight by Fatar); note that aftertouch is only monophonic. Tap-tempo and simple Oct+/- buttons which transpose semitones with a simple click of the 'shift' key; this keyboard makes for a great master controller for both computer-based and hardware-based sequencers. Multi-mode is available for the older-school studios with 16-channel MIDI multitimbrality. This is a synth for the computer age, but multi-mode is genuinely useable due to the synth's awesome dual-DSP polyphony. You'll run out of hardware sequencer notes before the synth does.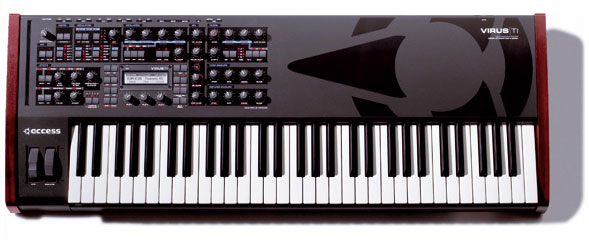 Virus TI 5-octave keyboard model
Rounding the synth is a studio-spec effects section, with delays (including tape delays - clocked and free running with modulation and bandwidth options), a great sounding reverb (which is used in perhaps a little too many of the 4,000 - yes 4,000 - factory presets) and EQ options with Q control. There's a distortion mode which can spit your sound out for breakfast, and phaser/chorus/unison effects for thick washes of sounds. You can play a 4-minute pad that never sounds the same twice on this synth; a great drone machine. Analog EQ emulations were added recently, and subtly tweak your sound in all the good ways.
There's also the small matter of the after-sales service from Access, which is second to none; email support, even for secondhand purchasers, and free lifetime updates (sometimes even after the synth has been replaced in the lineup by something newer). Unless you've been on Mir or Mars for 10 years, you've heard of the Virus. The TI model is the best Virus to date. Even if you have an irrational hatred of digital synthesis, you have to admit that this is the top-of-the-digital-tree at the moment.
Virus TI2 Desktop
In 2009 the Virus TI2 Desktop, Keyboard and Polar revisions were released, featuring 25% faster DSP processing, a lighter, redesigned enclosure, new effects including Tape Delay, Frequency Shifter, new Distortions, and Character Control, and an enhanced Virus Control 3.0 plug-in.
Virus TI2 Keyboard
Demos & Media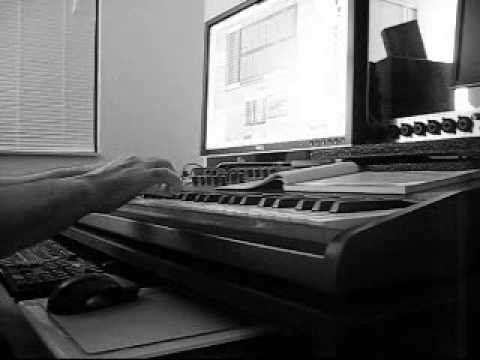 Ambient musician Phillip Wilkerson performs a short arpeggiator improvisation at home on the Access Virus TI.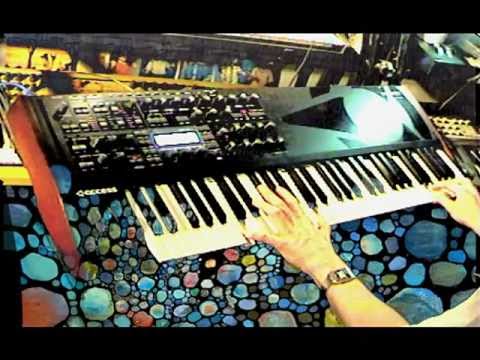 Getting There - Virus TI demo (2 of 2)
Specifications
Polyphony -
Over 80 voices
Oscillators -
3 osc + subosc + noise, FM, Sync
Waveforms -
Sine / pulse / saw / supersaw / wavetable / granular / formant
Filter -
dual LP/HP/BP/BR with envelopes and addtional multi-pole analog emulations (includes Minimoog 4-pole emulation)
LFO -
3 LFOs, multiple options plus mod matrix 18 slots
Envelope -
Amp / Filter / 'LFO as envelope' option
Arpeggiator -
Up / Down / Random / Chord / Multiple additions, editable in software to any variation
Effects -
Reverbs, Delays, EQs with Q and freq control, Tape Delays, Distortions (multiple), Phasers, Flangers, Chorus, Analog EQs, Vocoder.
Keyboard -
3-oct (37 key) or 5-oct (61 key) models
Memory -
128 patches in each of 30 banks plus USB storage / Librarian with additional free patchbanks provided regularly by Access
Control -
MIDI, USB, 16-part multitimbral in Multi or sequencer modes
Date Produced -

Virus TI series: 2005
Virus TI2 series: 2009