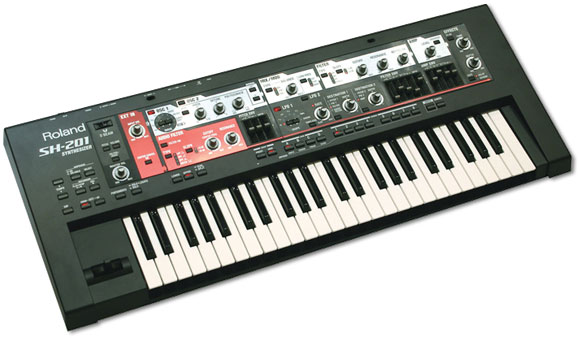 Roland has resurrected their SH-series of synthesizers with the SH-201, an analog modeling synthesizer that's both fun and easy to use with plenty of features and cool sounds at a great price. The sounds and controls are analog style, and the SH-201 features Roland's famous Supersaw waveform (introduced in the JP-8000), resonant filter, saturation control, and more. Unlike the original SH-synths which were monophonic affairs, the SH-201 offers 10 voices of polyphony, which is perfect since we only have 10 fingers and this is definitely a hands-on performance oriented synthesizer.
At its heart the SH-201 has two beefy analog-modeling oscillators with ten analog styled waveforms. The two oscillators can be blended together in the Mix section, and there is also oscillator sync and ring modulation. Of course there is a filter section with High, Low and Band pass filtering at 12 or 24 dB/oct slopes, with the usual cutoff, resonance and key follow controls. Two LFOs add some modulation with 6 wave shapes plus sample-n-hold and multiple destinations. It also comes with high-quality delay and reverb effects, an overdrive control, and (like the SH-101) an arpeggiator function with 32 patterns.
Like the SH-101 of the early eighties, the SH-201 is quite user friendly, with a fairly simple and organized panel lay out (in a logically positioned signal path from left to right) and every control onboard is within reach. There are no complicated touch screens or menus of parameters to wade through, just grab a control and tweak! The keyboard is compact with just 49 keys and is only sensitive to velocity (no aftertouch). Patch memory is a bit on the disappointing side, with only 32 user and 32 preset patches. However, with its state-of-the-art USB connectivity, the SH-201 can be connected to a Mac/PC computer (both MIDI and audio can be routed through the USB port) and a VSTi software editor is included, which allows SH-201 sounds to be edited and stored from within a VSTi-compatible host software sequencer.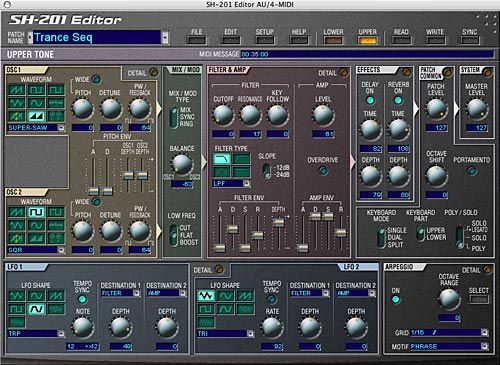 The SH-201 also features external audio inputs with dedicated filters and effects. The SH-201 also features Roland's D-Beam technology allowing you to simply wave your hand above the D-Beam controller to create some wacky pitch-bends or modulations to the sounds. While it is clearly loaded up with Roland's latest technology it is packaged in a synth that is easy to use and simple to understand, with instantly accessible analog-type synth sounds that won't empty your wallet to attain--and in that way, this truly is a Roland qualified to carry the "SH" designation.
It is used by Richard Barbieri.
Demos & Media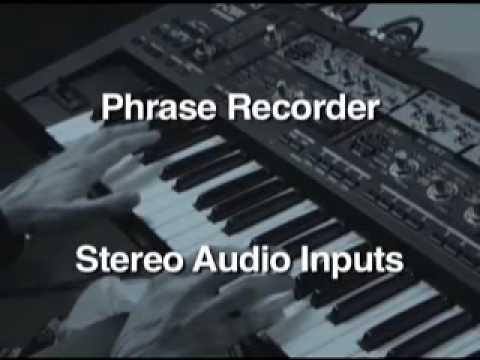 ROLAND SH-201 DEMO 1 :: Roland Iberia
Specifications
Polyphony -
Up to 10 voices
Oscillators -
2 Analog Sound Modeling oscillators;
Waveforms: SAW, SQUARE, PULSE/PWM, TRIANGLE, SINE, NOISE, FB OSC, Super SAW, EXT IN;
Knobs: Pitch, Detune, Pulse-Width/Feedback, Pitch Enveloper: Attack, Decay;
MIX/MOD Section: Oscillator Sync, Ring Modulation, Low Boost/Low Cut, Knob: Balance (OSC1/OSC2)
LFO -
2 LFOs; Shapes: TRIANGLE, SINE, SAW, SQUARE, TRAPEZOID, SAMPLE AND HOLD, RANDOM, Knobs: Rate, Destination 1 Depth, Destination 2 Depth, Tempo Sync ON/OFF
Filter -
1 Filter; Types: LPF, BPF, HPF (-12 dB/-24 dB), Knobs: Cutoff, Resonance, Key follow, Enveloper: Attack, Decay, Sustain, Release
Amp -
1 Amp: Level, Insertion Effect: Overdrive, Enveloper: Attack, Decay, Sustain, Release
Effects -
Reverb, Modulation Delay
Arpeggiator -
32 Patterns (programmable with PC editor software)
Memory -
Preset : 32, User: 32
Keyboard -
49 keys (velocity sensitive)
Control -
MIDI (IN, OUT), USB Connector (AUDIO/MIDI)